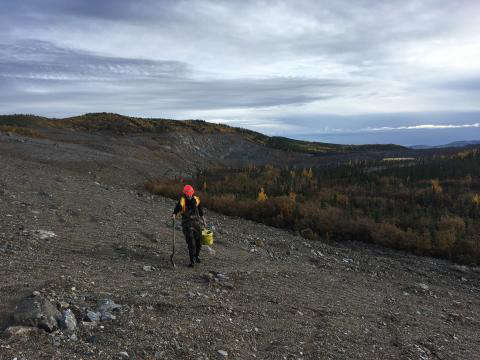 Ditry Work: Taylor Belansky collects samples out near the Minto Mine. Photo supplied by Yukon University.
The research project proposes a way to treat water affected by mining blasts using naturally occurring bacteria.
Scientists with Yukon University are getting a boost in research funding to help develop a method to treat contaminated mine water.
Master's student Taylor Belansky says her job has been to collect different water and soil samples, identify bacteria near the Minto Mine, and test it in a lab-scale bioreactor for de-nitrification capabilities.
Belansky says the mine-impacted water contains too much nitrate, which can be harmful to plants and animals, so the project aims to turn the bacteria back onto the nitrate.
"The nitrate comes from a couple of different sources it's mostly from blasting residue, so when they blast to get to the rock, if the detonation is not entirely complete, then it releases nitrates and so we are targeting those nitrates and treating them with the already naturally occurring bacteria."
Belansky says bacteria from Yukon's mines are already prepared to take nitrate out of the water.
"They live out there in our extreme conditions so they are already adapted to cold conditions. So what's unique about this project is we're using those bacteria from the mine-site itself to concentrate them and harness their powers to treat the nitrates in the mine impacted water."
The research is getting a $75,000 boost to its funding from both the Mitacs Acceleration program and Minto Metals Corp.
The project's results will then be used in a pilot test at the Minto Mine site.