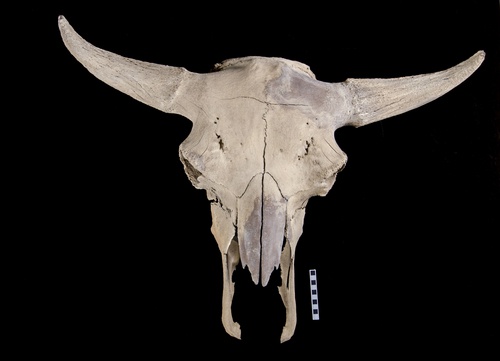 The skull of the Steppe Bison found in 2012. Photo: Yukon Government.
The 2012 discovery in Porter Creek is now the subject of an article in a national publication which says the animal lived through a mass extinction event.
New information is coming out about a Steppe Bison skull and bones that were found in the Versleuce Meadows area of Whitehorse in 2012.
Owners of a Porter Creek home made the discovery, and Palaeontologists who recovered the partial skeleton have put out their findings in the Canadian Journal of Earth Sciences.
Government Palaeontologist Grant Zazula says they found the bison was a six-year-old male, who lived 5,400 years ago, and died when it was mired in mud, then scavenged by wolves.
"We learned that it was actually a survivor of the ice age, and where a lot of the animals at the end of the ice age go extinct, we learn that these bison from Alaska and Yukon actually survived in southern Yukon, and persisted until fairly recent historic times."
Zazula says in consultation with area First Nations, the skull will be put on public display.
"It's a beautiful skull. We have some beautiful limb bones, and there's interesting parts of the bones where you can see where wolves have chewed on him, and scavenged parts of it." Zazula said.
'There's some parts of the story that can be told to the public."
Zazula says the Porter Creek area was covered with white spruce trees, and the tests found contrary to today, there were no pine trees in southern Yukon at the time,