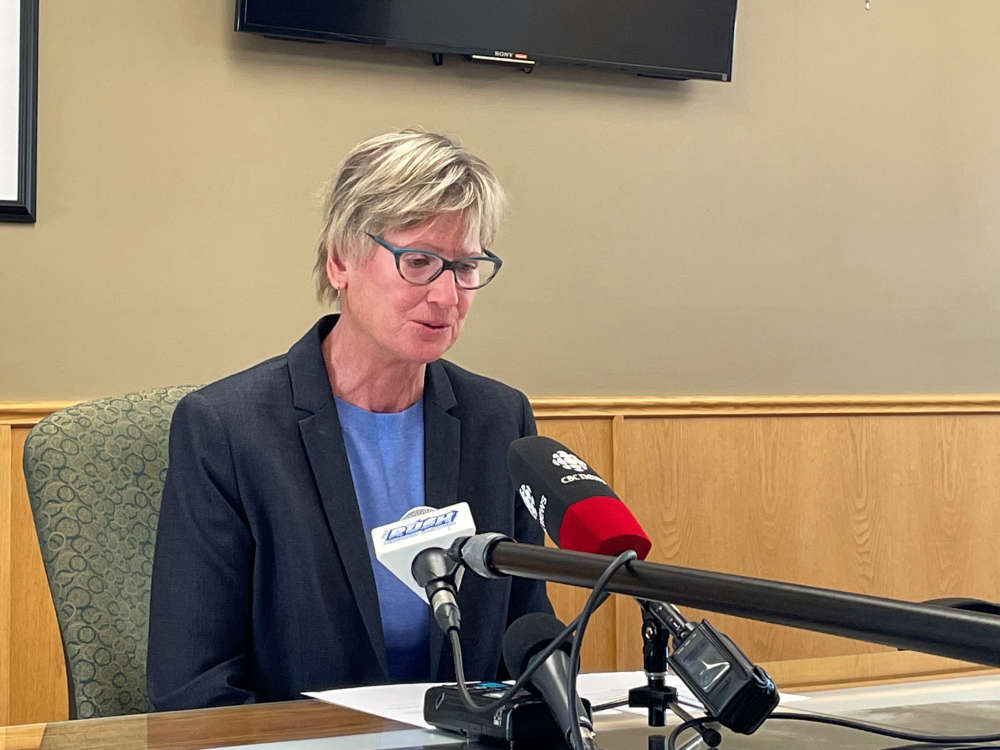 Mayor Laura Cabott says the city is actively working to keep the situation in hand and prepare for another potential slide. Photo by Curtis Geroux / CKRW
The City of Whitehorse says the escarpment slide that affected Robert Service Way is still unstable and cannot be interacted with until a further stabilization of the earth occurs.
The City of Whitehorse is providing an update on the escarpment slide situation along Robert Service Way.
Mayor Laura Cabott says the city will add a new option for commuters.
She says the city is set to be opening the top half of Robert Service Way, with barriers being moved to allow access to the Rotary Centennial Bridge.
Cabott says work is also being done to monitor the slide but current readings show that the zone is unstable, meaning no work can proceed to clear the debris just yet.
"Our monitoring efforts and the engineering assessments have shown that in some areas that the slide has moved, it's come down by at least four centimetres and that there are some new tension cracks and continues to be a lot of water seepage in the area."
In response to questions from the Media regarding residents who live alongside the cliffs throughout the downtown, Cabott says she has the city looking at the whole cliffside.
"We're looking at the entire escarpment and if there's an area that looks like it's presenting a danger, like any water coming down or something that might create a danger, then we would be on that. We haven't identified any new spots other than the ones that we had before. We're monitoring it, but we don't see any particular issues at this point."
She says the city of Whitehorse is going to have to come up with a plan to deal with the slide and the budget implications that follow.
"I wouldn't call it an emergency pot, but I would say that the city of Whitehorse is in a very strong financial situation. We have $55 million in our reserves, so if we need to utilize that, we will."
Cabott says if it's needed, the city will call on the Federal Government for assistance.
"They are partners who do have deeper pockets and have programs on managing measures like this, you know, it was just last month that Federal Minister Bill Blair was here and I had an opportunity to meet with him."
Cabott continued "Mr. Blair is well aware of the circumstances here in the city of Whitehorse and the potential changes that we are going to experience with climate change. That would certainly be one of the first places that I would go to seek help. If we need that. But it's too early at this point."
Cabott says the city hoped to have started the reopening process by now, but the situation just isn't safe to engage with yet.