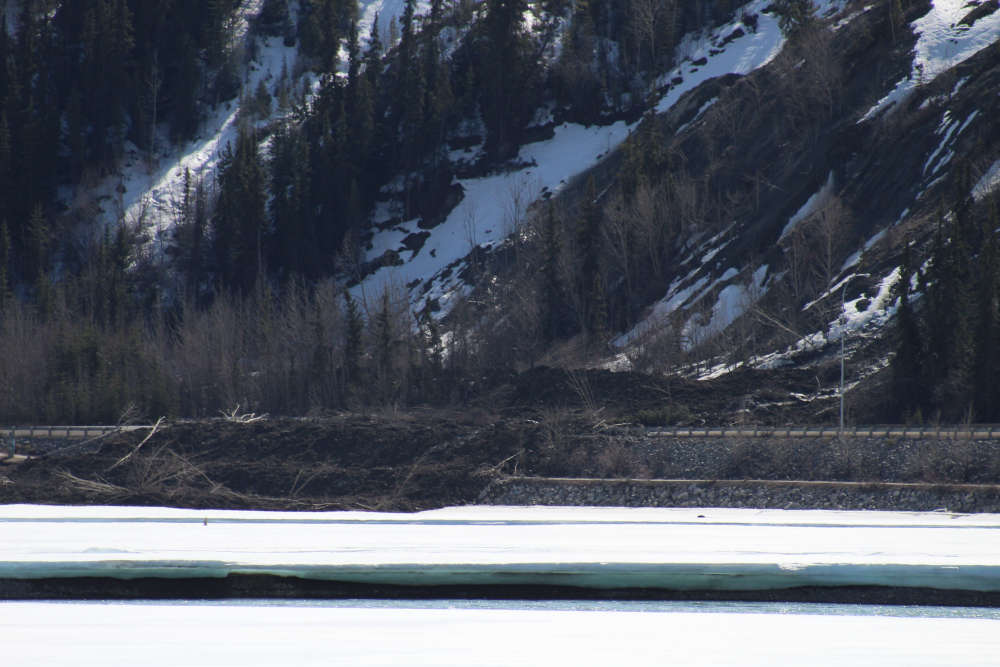 The damage done to the roadway and trails can be seen from across the Yukon River. The road's guardrail was knocked down onto the Millenium Trail below by the earth. Photo by CKRW News Team
The city says the damage is extensive and will require time to clean up and assess the safety of the affected areas.
A cliff slide has closed both lanes of Robert Service Way, The Millennium Trail and the Airport Trail in Whitehorse.
On Saturday, April 30th, near 3:40 in the afternoon, the Whitehorse Fire Department, RCMP and Bylaw Services were called down to Robert Service Way in response to a cliff slide, with the damage extending from the roundabout to the ball diamond.
A public notice issued by the city says the slide has forced the closure of the two trails and the road as a result, as the damage and debris have overtaken both trails and the roadway.
Several eyewitnesses at the scene report that two people were nearby at the time of the slide, but nobody was hurt.
The city says they will remain closed until crews can clear the way and ensure the safety of users.