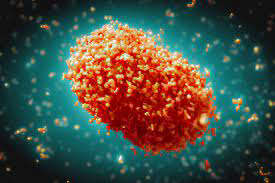 The Monkey-pox virus as depicted by the World Health Organization. Photo from W.H.O.
Yukon's Chief Medical Officer of Health has issued a statement regarding Monkey-pox and the level of risk associated with the disease.
The Yukon's Chief Medical officer of Health has released a new statement regarding the risk factors of Monkey-Pox in the Yukon.
Dr. Sudit Ranade says with Monkey-Pox now present in the Yukon, The Department of Health and Social Services has decided it will not announce any suspected or confirmed monkeypox case numbers, their location, or any demographic and identifiable information.
He notes that anyone can be exposed and infected from close, skin-to-skin contact, including sexual contact.
Ranade says Yukoners should work to support each other and avoid unfairly stigmatizing any group or people that are / could be more susceptible to infection, as it may cause harm and could delay infection prevention and control efforts.
Some symptoms of Monkey-Pox include fever, headache, fatigue, sore throat, cough, and a painful skin rash.