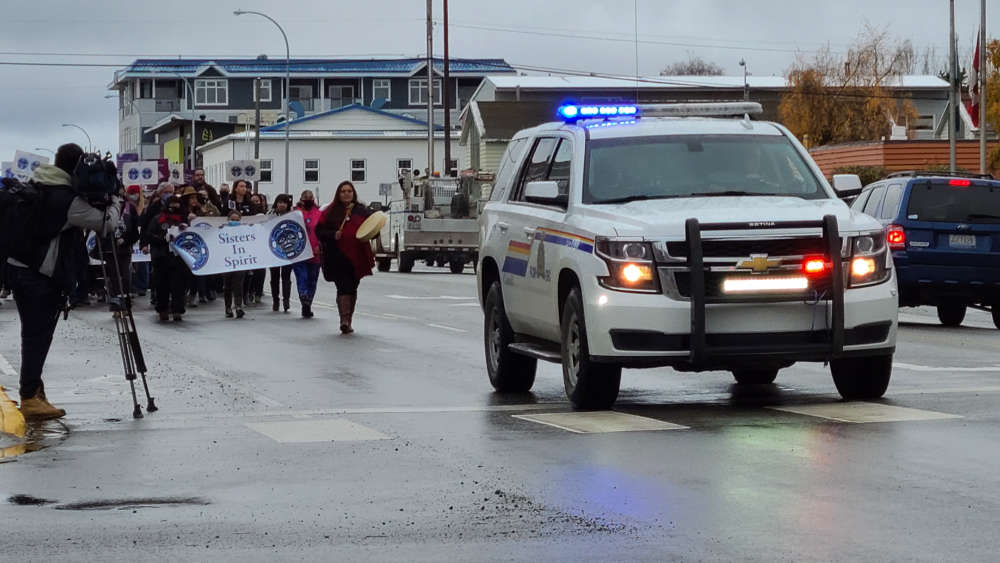 The Yukon RCMP cleared the way as the vigil walk took over the streets of Whitehorse, with participants marching through the downtown area. Photo by John Kennedy
The Vigil Walk got underway on Monday in Downtown Whitehorse, with close to 100 Yukoners coming out to remember and honour missing and murdered Indigenous women and girls.
The Sisters In Spirit Vigil Walk got underway in Downtown Whitehorse, with over 100 Yukoners coming out to march in solidarity.
The Yukon Aboriginal Women's Council spearheaded this year's event, with Outreach Program Coordinator Joy O'Brien reminding attendees why they walk each year.
Brien says the red dress, seen hanging around various locations in Whitehorse, is a symbol of remembrance and sadness.
"By hanging the empty red dresses in a range of environments, the dresses invokes and marks the absence of these women. We cannot forget they're gone."
This year's march started outside the RCMP M Division Headquarters and wrapped up outside the Kwanlin dun Cultural Centre's fire pit.