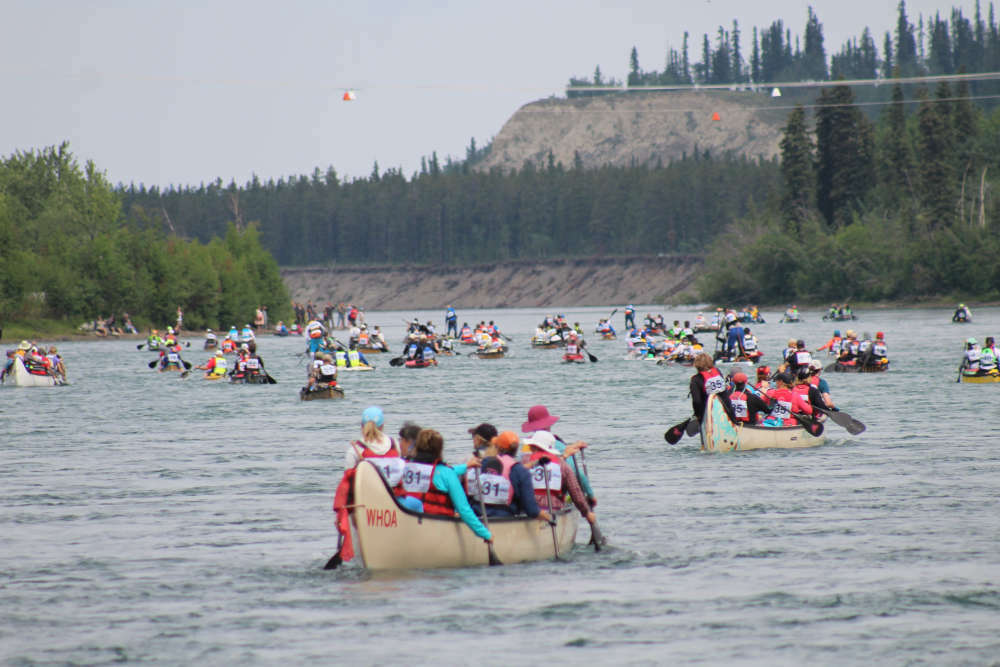 Photo: CKRW file.
The final paddlers arrived in Dawson City this past Saturday as the 22nd Yukon River Quest wrapped up
YUKON - The 22nd Yukon River Quest has wrapped up as the final racers arrived at the docks in Dawson City this past Saturday.
An astonishing 10 records were broken this year, which is the most in the past, including the fastest race time collectively for the whole field. Completing their 715 km race was difficult with the most hazardous water conditions ever seen for the race.
Team Something Else Entirely arrived first and won the race. A voyageur, a tandem kayak, and a C-4 (four-person canoe) were the first boats to arrive.
With two of the same team members, they broke the previous record by six hours as they led the race from Carmacks to Dawson at 1 p.m. in 39:08 minutes. As they pulled in, Sebastien Courville, Mike De Abreu, and Eric Braul were without a doubt pretty tired after their epic trek.
Robert Spinks, was also inducted into the Great River Club by paddling 5,000 km and over in his river quest legacy.
A full list of top finishers follows below:
Stand-up paddleboard
Mens SUP
NEW RECORD
1 – Lincoln Dews (Lincoln Dews) 47:46:32
2 – Halfway to Cina (Davide Cina) 49:28:11
3 – Standing Room Only (Jason Bennett) 50:23:54
Womens SUP
1 – Type 2 Fun (LouAnne Harris) 62:36:12
2 – Shara Dubeau (Shara Dubeau) 65:34:50
Solo canoe
Mens solo canoeNEW RECORD
1 – Half a Perfect Storm (Gaetan Plourde) 47:59:34
2 – Doggy Paddle (Matthew Smith) 59:47:00
Solo kayak
Mens solo kayak
1 – Wunnumut (Jeff Brainard) 44:10:35
2 – Golden Retriver (Wayne Anderson) 45:43:00
3 – Estonian Vikings (Mart Reimann) 48:46:32
Womens solo kayak
1 – Victorious Secret (Mirjam Fleming) 53:43:02
2 – Rough Cut Diamond (Patricia Jones) 55:46:34
Tandem canoe
Mens tandem canoe
1 – Soggy Bottom Boys 43:13:36
2 – Spirit of the Yukon 44:36:28
3 – Calgary Canoe Club 45:42:20
Womens tandem canoe
NEW RECORD
1 – Love of Paddling 47:43:24
2 – The Girls Next Door 56:51:23
Mixed tandem canoe
1 – The Bickersons 46:18:53
2 – Mennonites Don't Tip 50:49:31
3 – Fermentation Vessel 53:43:17
Tandem kayak
Mens tandem kayak
NEW RECORD
1 – www.tyreorder.com Elite Team 40:05:43
2 – Yukon Wide Adventures 45:01:00
3 – World of Kayaks Team Estonia M&M 50:20:16
Womens tandem kayak NEW RECORD
1 – Huum Sauna 43:44:39
Mixed tandem kayak
1 – Schaay Ventures 47:39:15
2 – RBA 62:28:13
Four-person canoe
Mens four-person canoeNEW RECORD
1 – Something Else Entirely 39:08:12 (new overall race record)
2 – Team Quickblade 43:13:04
Womens four-person canoeNEW RECORD
1 – Every Child Matters 50:23:11
2 – Sea Wings 57:22:08
Mixed four-person canoeNEW RECORD
1 – Delta Heat 43:17:01
2 – VIP Bucket List 46:25:05
Voyageur
Mens voyageur
1 – Pagunpogo 40:05:43
2 – Hatchet Lake 42:35:37
3 – Buckwheat's Howlers 46:40:05
Half Quest NEW RECORD
1 – Eddyline (mens tandem canoe) 24:38:54
2 – Paddlers Abreast (womens voyageur) 25:00:40
3 – Crisis and the Commando (mixed tandem kayak) 26:07:11