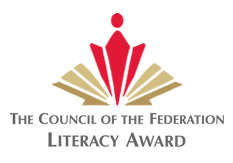 Photo: The Council of the Federation Literacy Award Logo
The annual Council of the Federation Literacy Award is looking for nominations from the Yukon
YUKON - The 2022 Council of the Federation Literacy Award is now looking for nominations.
The annual award is handed out across Canada to acknowledge the work of educators, volunteers, learners, community organizations and businesses in literacy.
Premier Sandy Silver says, "Yukoners are encouraged to submit persons who have demonstrated great success, creative practice, and quality in adult literacy."
Last year saw the award go to Champagne and Aishihik First Nations Elder Vera Brown for helping to preserve the Southern Tutchone Language.
The Council of the Federation was established in 2003 to enable Canada's 13 premiers to work collaboratively to strengthen the Canadian federation.
The award is issued, with a ceremony on Literacy Day, September 8, 2022.
Those looking to nominate can do so here.