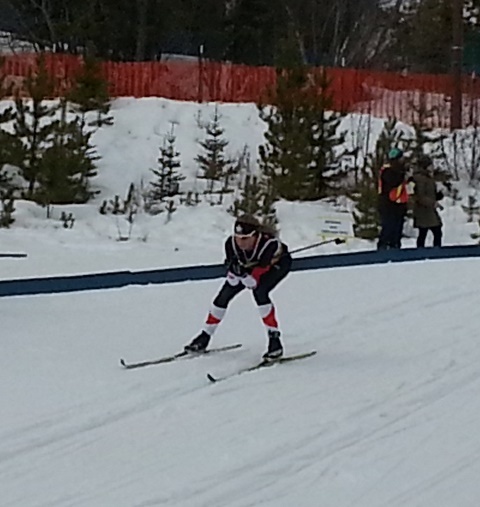 Hynes on her way to a first place finish Saturday. Photo: Tim Kucharuk/CKRW
Emily Nishikawa, Natalie Hynes win long-distance races.
Yukon cross-country skiers wrapped up the Haywood Ski Nationals in style.
Emily Nishikawa won the senior women's 30 kilometre classic mass start race on Saturday, enduring some slushy conditions at the Whitehorse Cross Country Ski Club.
Nishikawa, who won the classic team sprint relay, and finished second in the free 10 kilometre race earlier in the week, says it was great to race at home.
"Just having the hometown advantage and just having so many smiling faces out along the course, and the volunteers have just been so great." Nishikawa said. "There's been so many kids out cheering, so that's really kind of helped propel us."
The National Ski Team member says having the nationals in Whitehorse can only be good for the future of the sport in Yukon.
"Just for so many young skiers to get this opportunity to race at nationals, which if it wasn't in Whitehorse they might otherwise not have. So that's a huge bonus for our younger up and coming generation."
Natalie Hynes won the Junior Girls 7.5 kilometre mass start, while Knute Johnsgaard finished 4th in the senior men's 50 k mass start.