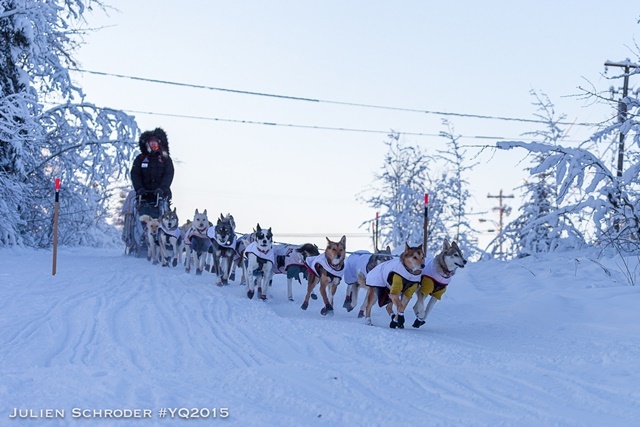 Photo: Julien Schroder/Yukon Quest
The leaders rest in Dawson, as the race heads into Canada.
Yukon Quest mushers have their eye on Dawson, as all but one have left Eagle, and six mushers have now made it into Dawson, and a much deserved 36 hour layover.

Brent Sass was the first to arrive Wednesday afternoon, and if he finishes the race, will get four ounces of Klondike Placer gold from the Fellers family in Dawson. He's eligible to leave just after midnight tonight. Two-time champion Allen Moore arrived second, and Hugh Neff sits in third,
Matt Hall is fourth and Ed Hopkins from Tagish round out the top five. Sweden's Torsten Kohnert arrived just before 6 am, and says he had an encounter with a Bull Moose near Fortymile. He says the moose came within a foot of the team, and he could have reached out and touched the animal. He also saw some wolves and a caribou.
Tom Johansen pulled into Dawson a few minutes before 7 am.
Seth Barnes will be the next to arrive later Thursday morning.

Andrew Pace, Yuka Honda, Mike Ellis, and Dave Dalton have all left Clinton Creek, and are ascending the Top of the World Highway Summit, which is over three-thousand feet.
Cody Strathe, and Page Drobny are resting at Clinton Creek.

Mendenhall's Luc Tweddel was on the Canada-U.S. border early Thursday morning, with Whitehorse's Rob Cooke about seven miles behind him.

Rookie Laura Neese from Michigan, is about seven miles behind Cooke.
Gaeten Pirrard, Sebastien Dos Santos Borges, and Tore Albrightsen made it over the American Summit early Thursday.

Tony Angelo was also tackling the summit in the early morning hours.

Ontario's Hank DeBruin is in the Red Lantern position as he rests in Eagle.

Still only one musher has scratched from the race, that was J Jay Levy on Sunday afternoon. A number of teams are reporting a stomach bug is going through their dogs, but they're taking extra care, shaking it off, and pushing forward in the race.