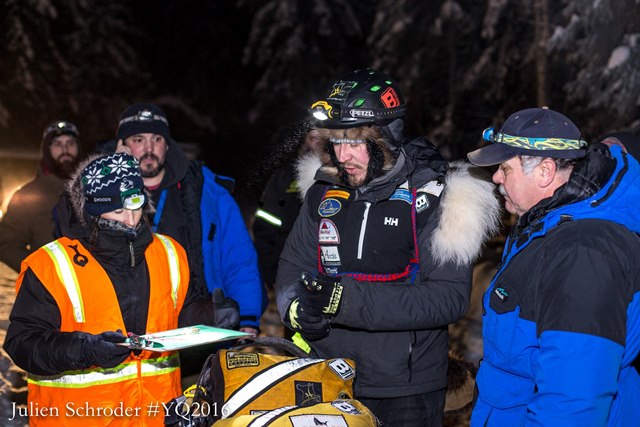 Leader Brent Sass checks out of the Dawson Checkpoint early Friday morning. Photo: Julien Schroder/Yukon Quest
First mushers leave Dawson, others arrive for 36 hour layover
Dawson is now the focal point of the 33rd Yukon Quest. The first teams left the midway point of the one-thousand mile dog sled race early Friday morning,
Brent Sass and his 13 dogs first out at 12:23 am. He was followed about two hours later by Allen Moore with 13 dogs and Hugh Neff, with his lead dogs sporting blue LED collars, had 11 dogs still on the line. Sass, who was pushing a lot of sticky snow as he left Dawson, has opened up a 16 mile lead as he is at the bottom of King Soloman Dome.

Matt Hall had to drop two dogs in Dawson, and his team of 10 left at 5 am Friday.

Ed Hopkins from Tagish can leave in about 20 minutes time.

Torsten Kohnert, and rookie Tom Frode Johansen can't leave Dawson until later tonight.

Seth Barnes, Yuka Honda, Mike Ellis, and Dave Dalton can't leave until early Saturday.

Rookie's Andrew Pace, and Laura Neese arrived in Dawson after 5 Friday morning.
Both were caught in a howling storm on the summit, with Neese saying the snow reminded her of her Michigan home, while Pace says Neese was his saviour as he was camped out on the summit.

Cody Strathe, and Page Drobny, along with Mendenhall's Luc Tweddel arrived in Dawson during the 7 am hour.

Whitehorse's Rob Cooke was stopped at the Top of the World Highway summit, about 20 miles from Dawson.

Gaeten Pirrard, Sebastien Dos Santos Borges. and Tore Albrightsen left Clinton Creek Friday morning, and are just over 50 miles from Dawson.
Cameron Webber with the Quest in Dawson says officials are watching the last two mushers, who are still on the U.S. side of the border because of a fierce storm on the American Summit outside of Eagle.

Webber says Tony Angelo was camped out near the Alaska-Yukon border, while Hank DeBruin left Eagle, but had to turn back due to the storm.

Mushers and handlers were briefed on the latest trail report by the Trail Coordinator for the Yukon side of the race Thursday afternoon by Ranger Sergeant John Mitchell. Mitchell cautioned the mushers about minimal snow depths, rough ice, and areas with open water, as the mushers head for home in Whitehorse.