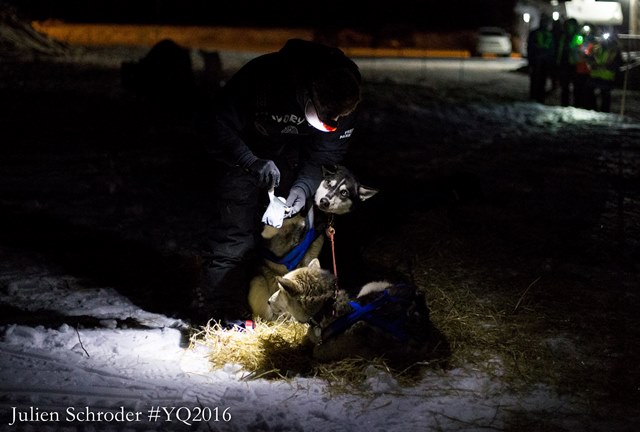 Leader Hugh Neff prepares his team in Braeburn for the final 100 miles of the Yukon Quest early Monday morning. Photo: Julien Schroder/Yukon Quest
Leaders to arrive in Whitehorse mid-day Monday
We will have a winner in the 33rd Yukon Quest in a matter of hours.
Hugh Neff was the first to leave Braeburn just after 12:30 Monday morning, with nine dogs on the line. He had to drop a dog in Braeburn due to a leg issue.
Neff is now about 40 miles or 64 kilometres from Shipyards Park and the finish line in Whitehorse.

Brent Sass left Braeburn two hours and 37 minutes later, and is running about 15 miles behind. Last year's champion still has 10 dogs on the line. Sass has been fighting a stomach bug, and broke a handlebar on his sled earlier in the race near Scroggie Creek.

Two time champion Allen Moore is third, running about 21 miles behind Neff.

Matt Hall left Braeburn just after 5 am Monday with nine dogs on the line.

Ed Hopkins from Tagish is cruising toward Braeburn, and at last check, was about 8 miles from the checkpoint in fifth place. He arrived just before 9 am for his mandatory eight hour layover.

Torsten Kohnert left Carmacks before 7:30 am, while rookie Tom Frode Johansen was still at the checkpoint.

At last check, Yuka Honda, was 34 miles from Carmacks, while Mike Ellis, and Seth Barnes were taking a break at the McCabe Creek dog drop about 40 miles from Carmacks.

Dave Dalton arrived in Pelly just before 3 am, and took roughly a four hour break, pulling out of Pelly after 7 am.
Luc Tweddell from Mendenhall is resting at Stepping Stone, 37 miles from Pelly.
Andrew Pace, Cody Strathe, and Page Drobny, are stopped just over 20 miles from Stepping Stone.

Michigan's Laura Neese is stopped two miles behind those three mushers.

Whitehorse's Rob Cooke is on the move, and is 36 miles from Stepping Stone.

Tore Albrightsen left Scroggie Creek early Monday morning, while Sebastien Dos Santos Borges is camped out at the stop.

Gaeten Pirrard is assending the second half of King Soloman's Dome south of Dawson.

The Quest has 20 mushers still in the race, after Tony Angelo was withdrawn in Dawson in the best interests of both the musher and his dogs.