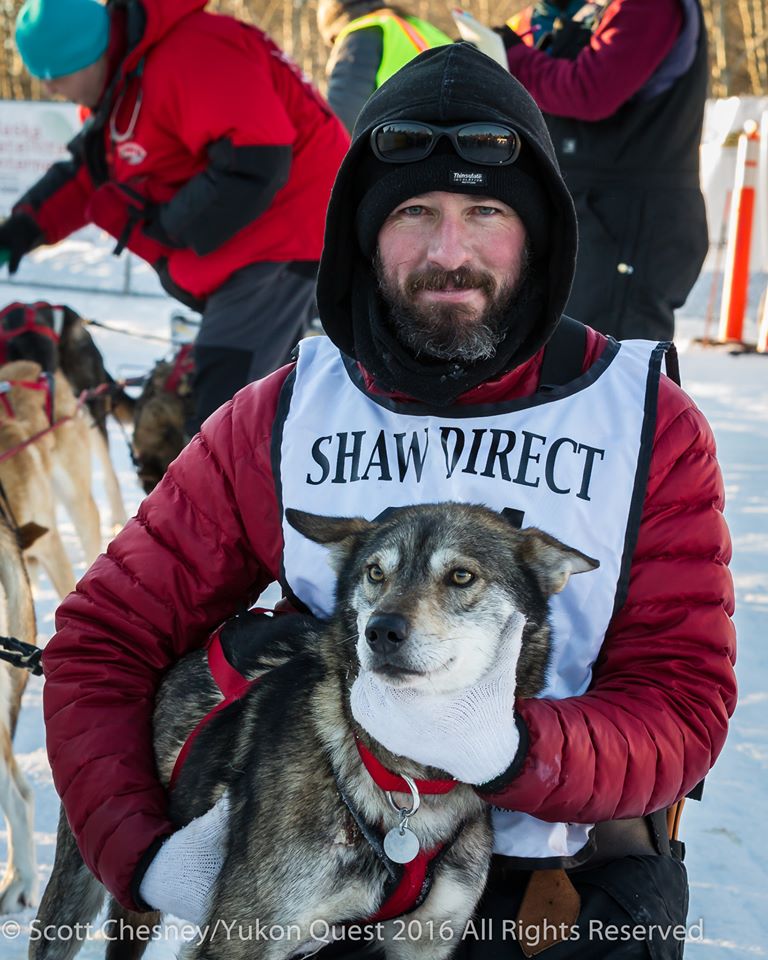 Mendenhall musher Luc Tweddell at the finish line. Photo: Scott Chesney/Yukon Quest
Two mushers left on the trail, as the 33rd Yukon Quest heads for the home stretch
Action in the 33rd Yukon Quest is starting to wind down, as five more mushers have finished the one thousand mile dog sled race.

Early this morning, the group of Page Drobney, Cody Strathe, and Andrew Pace came across the line a minute apart each starting at 3:36 am, in 14th, 15th, and 16th place.

19-year old rookie Laura Neese finished her race in 13th spot after 8 pm Wednesday night with nine dogs on the line.

Mendenhall's Luc Tweddell finished 12th with six dogs just after 5 pm Wednesday afternoon.
Tore Albrightsen crossed the Takhini Hot Springs finish line at 8:08 am Thursday morning.
There's two mushers still out on the trail.
Whitehorse's Rob Cooke left Braeburn at 1:18 Thursday morning, and at last check was over 20 miles out.

Gaeten Pirrard in the Red Lantern position was under 10 miles from Braeburn, and his manditory eight hour final layover.

Tok, Alaska's Hugh Neff won his second Quest Monday afternoon, picking up $35,000 (Cdn) prize money.