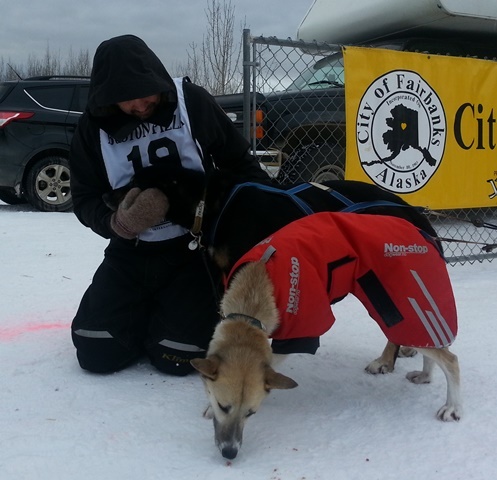 Johansen thanks his dogs for a job well done after taking 7th spot in the 2016 Yukon Quest. Photo: Tim Kucharuk/CKRW
11 mushers have now completed the 1,600 kilometre dog sled race
The top 11 mushers in the 2016 Yukon Quest have crossed the finish line.
Takhini Hot Springs north of Whitehorse welcomed four more mushers Wednesday morning.

Rookie Seth Barnes pulled in at 2:53 am in eight place, followed by Yuka Honda from Japan at 4:49 am, and Mike Ellis at 5:39 am, grabbing 10th spot and the final share of the $135,000 U.S. purse.

Dave Dalton followed a half an hour later at 6:09 am.

The top rookie in this year's Yukon Quest is Tom Frode Johansen, who has been mushing dogs for 30 years in Europe.
#YQ2016 Rookie of the year Tom Frode Johansen crosses @theyukonquest finish line pic.twitter.com/sjFtS4A5LL

— Tim Kucharuk (@TimKucharuk) February 17, 2016
The Norwegian musher finished at Takhini Hot Springs just after 4 pm Tuesday, with 10 dogs taking seventh place overall.
Tom Frode Johansen and his lead dogs after finishing as the top rookie in @theyukonquest #YQ2016 pic.twitter.com/ReZahyMzJg

— Tim Kucharuk (@TimKucharuk) February 17, 2016


Johansen says his fellow Scandanavian musher Torsten Kohnert pulled a Lance Mackey on him in Pelly, by marking down a wake up time, but then leaving the checkpoint instead.
Luc Tweddell from Mendenhall pulled out of Braeburn at 7:37 am. It's roughly a 10 hour run, so he should arrive about 6 pm Wednesday if you want to head up and watch the local musher finish.

Michigan's Laura Neese arrived in Braeburn at 3:15 am for her eight hour layover.

Andrew Pace, Cody Strathe, and Page Drobny, are all travelling together, and at last check were 20 miles from Braeburn.

Tore Albrightsen is about 37 miles from Braeburn.

Whitehorse's Rob Cooke left Carmacks just after 4:30 am, and is about 60 miles from Braeburn.

Sebastien Dos Santos Borges should arrive in Carmacks this hour.

Gaeten Pirrard in the Red Lantern position is about 34 miles from Carmacks, just leaving the McCabe Creek Dog drop.