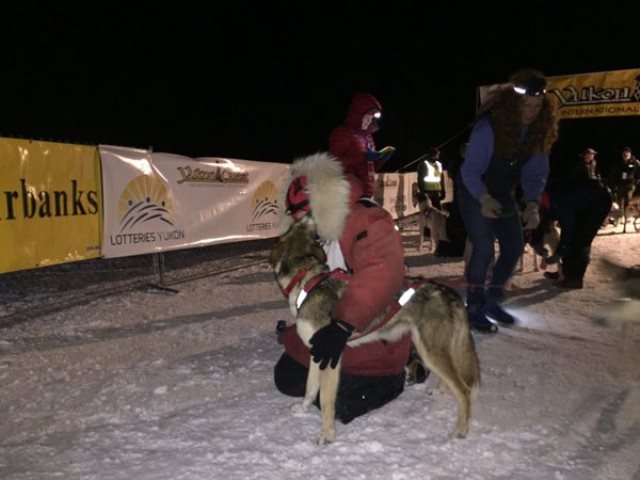 Hopkins shares a moment with his lead dog after finishing the Quest early Tuesday morning. Photo: Tyson Fedor/CKRW
Top Canadian 5th, as middle of the pack mushers close in on the finish
The Yukon Quest will see more mushers cross the finish line north of Whitehorse Tuesday.

One musher has already crossed in the early morning hours, as Ed Hopkins from Tagish made his way into Takhini Hot Springs just after 3 am with 10 dogs on the line.

Hopkins says the trail on the Alaska side was relatively smooth, but he had to deal with an illness that went through his team, and spent one shivering night all wet.


He says he did want to keep the pressure on the leaders, but made a few mistakes, and ended up taking too much time in some places.

Sweden's Torsten Kohnert looks like he's going to cross the finish line in sixth place, as he's 35 miles out.

Rookie Tom Frode Johansen from Norway left Braeburn after 6 am, and is 58 miles from the finish.

Seth Barnes was the next to arrive in Braeburn.
He's followed by Yuka Honda, who is running ten miles back.

Mike Ellis, who is 10th, and Dave Dalton are within 33 miles of Braeburn.
The top 10 mushers get a piece of the $125,000 U.S. prize money.

Luc Tweddell from Mendenhall is resting at Carmacks, arrving after 4 am.
Laura Neese has left the McCabe Creek dog drop after 7 am.

Andrew Pace, Cody Strathe, and Page Drobny, are still resting at McCabe Creek.

Whitehorse's Rob Cooke, left Pelly Crossing just before 7 am, while Tore Albrightsen was still parked at the checkpoint.

Sebastien Dos Santos Borges is inching his way toward Pelly, and is about 30 miles out.
Gaeten Pirrard in the Red Lantern position is 12 miles from Stepping Stone.

The winner of the Quest for the second time was Hugh Neff who came across the line at Shipyards Park at 2:31 pm Monday.
He was followed over an hour later by last year's champion Brent Sass.
Allen Moore was third, arriving just after 5 pm.
Matt Hall was the last musher to cross the Shipyards Park finish line in fourth.
Officialls moved the line to Takhini Hot Springs after Hall finished, as the Yukon River undergoes rapidly changing conditions.

The move was made for the safety of both the dogs and mushers.