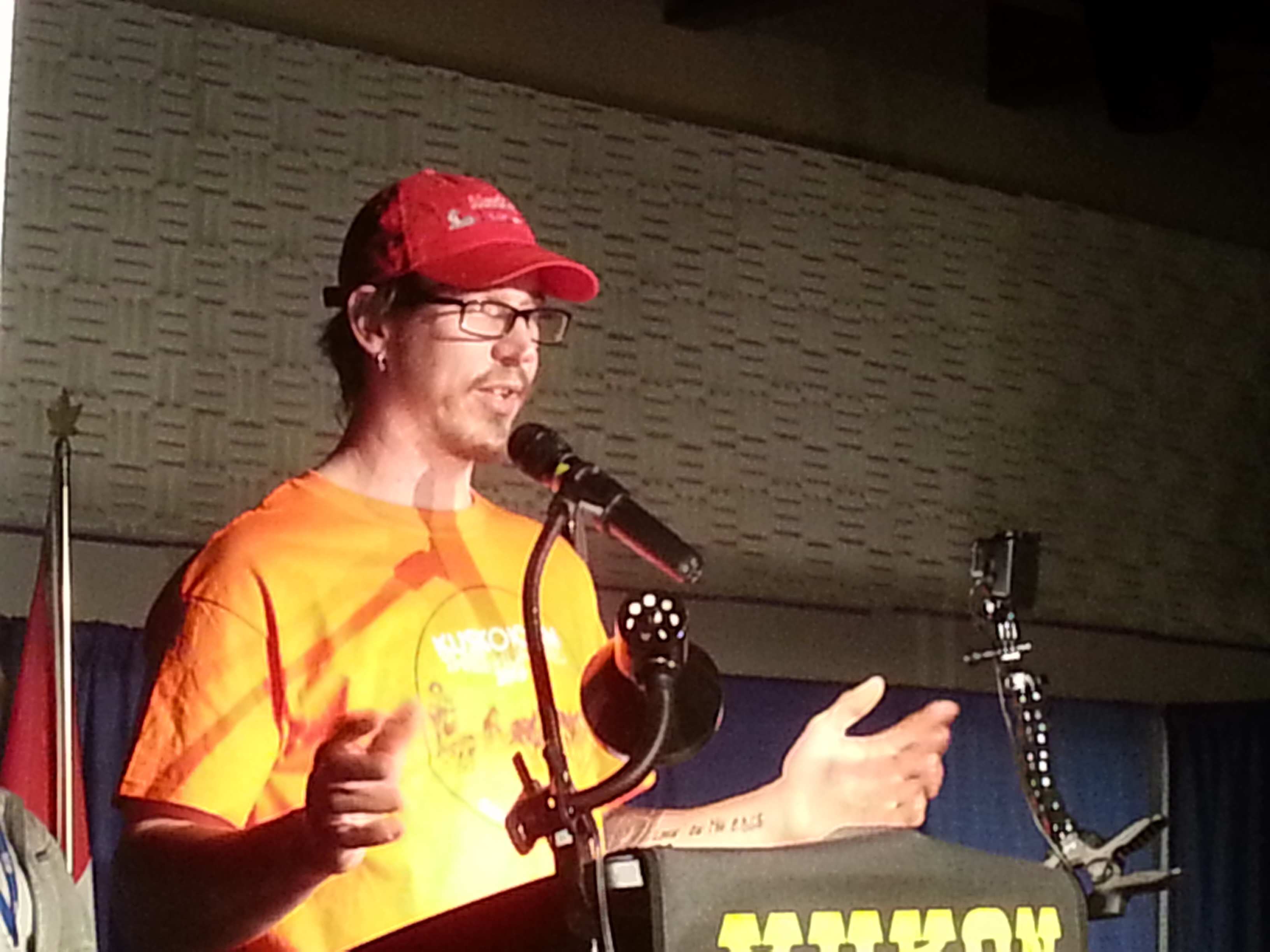 Runner up Brent Sass addresses the crowd Saturday night. Photo: Tim Kucharuk/CKRW
Mushers honoured during finish banquet Saturday night
The awards have been handed out as the 33rd Yukon Quest comes to a close.

Fans, Race officials, the Canadian Rangers, and Mushers had a chance to exchange stories in Whitehorse Saturday night.
The Dawson award which is four ounces of Klondike Placer Gold courtesy of the Feller's Family for being first to Dawson, and finishing the race went to Brent Sass.
Rookie of the Year was Tom Frode Johansen.
The @theyukonquest mushers enter the finish banquet in #Whitehorse #YQ2016 pic.twitter.com/cRjaqGq0Co

— Tim Kucharuk (@TimKucharuk) February 21, 2016
The Challenge of the North award went to 26 time Quest competator Dave Dalton.
"I've been waiting a lot of years for this one." Dalton said.

The red lantern for being the final musher to cross the finish line was presented to Gaeten Pierrard, who calls Mendenhall home.
Champion Hugh Neff's dogs George and Stevie Ray were presented with the Golden Harness award as the year's champion dogs.
"George is amazing!" Neff told the crowd. "You guys better get use to Stevie Ray, because he's going to be here again."

Neff says besides winning the race, it was the final journey into Whitehorse which he will remember the most with the crowds growing as he got closer to the finish.

Rounding out the awards, 19 year old Laura Neese was the recipient of the sportsmanship award, which is voted on by the mushers.
"A lot of you deserve this as much as I do." Neese said. "It was a joy to be out there with all you guys."
Matt Hall came home with his second Veterinarian's Choice award.
Next year's Yukon Quest starts in Whitehorse February 4th.