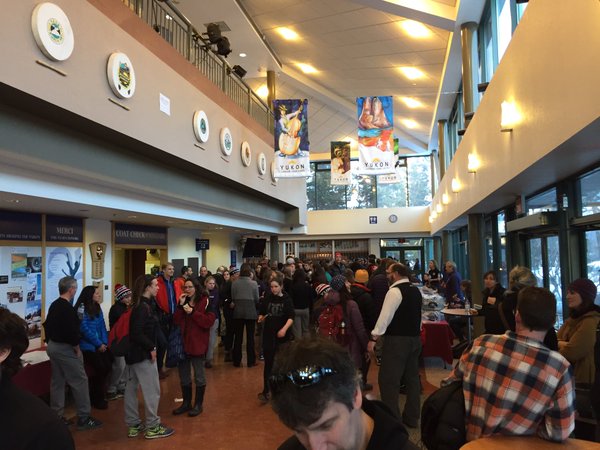 Team Yukon at YAC for a pep rally. (Tyson Fedor/CKRW)
Yukon's athletes are "stoked" for the Arctic Winter Games.
With Team Yukon destined for Greenland, the athletes had one last chance to celebrate in the territory, before the Arctic Winter Games commence.
At last night's pep rally, 241 athletes were in attendance at the Yukon Arts Centre, including Luca van Randen, who is a centre on the Jr Men's Volleyball team.
He says his team is ready to go.
"Lots of preparation went into this. I had to do lots and lots of training, I had top try out for the team. Lots of guys got cut." says van Randen.
"I don't really know how they separated us but they chose a top ten and then we've been training, three, four times a week, doing fitness, doing training and then just trying to gel as a team. We had tournaments, as we went down to Calgary to get game play experience."
241 athletes are set to take on Nuuk, Greenland for the 2016 Arctic Winter Games for #TeamYukon. #AWG2016 pic.twitter.com/FlOf1Cg2GK

— Tyson Fedor (@Tyson_Fedor) March 4, 2016
van Randen is competing in his second Arctic Winter Games and says he's looking forward to taking in the cultural aspect of Nuuk, Greenland.