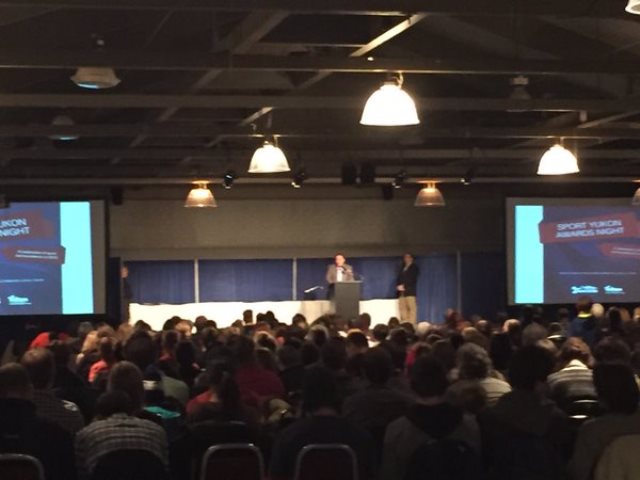 Premier Darrell Pasloski was among those who spoke at the awards night. Photo: Tyson Fedor/CKRW
Pettitt, McIntyre, Scoffin, Nishikawa among this year's winners
The 40th Annual Sport Yukon awards is honouring Yukon's best athletes.
Thursday night, Rachel Pettitt was crowned the National and Territorial female athlete of the year for figure skating, while curler Thomas Scoffin picked up the male athlete of the year.
Darby McIntyre, with Special Olympics Yukon, took home International Male Athlete of the year for his two medals at the Special Olympics World Summer Games.
Emily Nishikawa was International Female Athlete of the year.
Kevin Murphy and Les Johns were inducted into the Yukon Sports Hall of Fame.
The team of the year went to the Whitehorse Bantam Mustangs hockey team, while the Coach of the Year winners are Laurie Jacobsen and Dennis Peters of Biathlon Yukon.