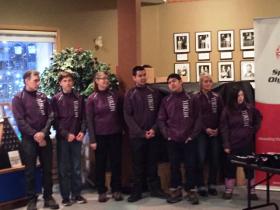 Tyson Fedor/CKRW
2002 Olympic Champion to be in Whitehorse to speak at Special Olympics Yukon dinner.
Hundreds of Yukoners will pack the Yukon Convention Centre in Whitehorse tonight for a good cause.
Special Olympics Yukon holds their festival dinner auction, and Executive Director Serge Michaud says besides all the items up for bid, there will be two guest speakers.
"We have 2002 Olympic figure skating pairs champion Jamie Salè as our featured speaker.`` says Michaud.
``Right alongside with her will be our 2015 Special Olympics World Games champion, Darby McIntyre. He'll be speaking as well.``
Michaud says proceeds will help Special Olympics Yukon put on quality programming for their athletes across the territory, and send them off to national and international events.