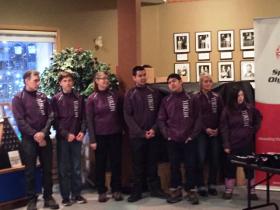 Special Olympics Team Yukon - Tyson Fedor/CKRW
Mike Sumner, Tijana McCarthy, Owen Munroe, Darby McIntyre and Ernest Chua will represent Team Yukon at the upcoming 2016 Special Olympics Canada Winter Games.
WHITEHORSE - The team was announced late Monday afternoon.
Sumner and McCarthy will compete as figure skaters, and the others will tackle cross country skiing.
Chef de Mission, Brettanie Deal-Porter she's thrilled to lead Team Yukon for the first time.
"This is just such a dream to be a part of this team and the excitement, and all the stories I've heard about traveling to these games it's just it's incredible and I can't wait to experience myself." Deal-Porter said.
"These athletes train so hard, and they're so pumped when they get the chance to get out there and compete in the sports they love."
The games, which begin February 29th, and run until March 5th, will take place in Corner Brook Newfoundland.