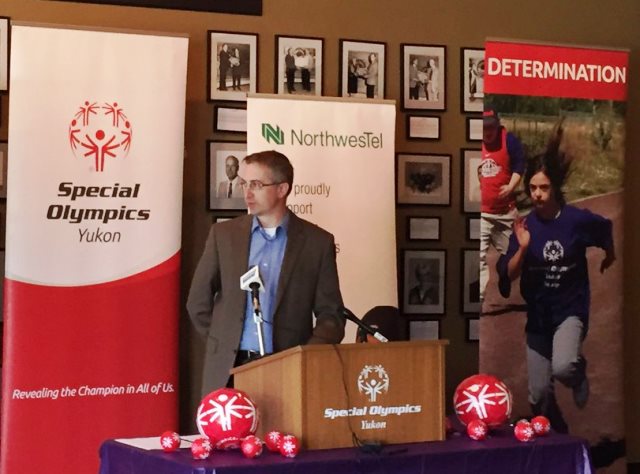 Shaw welcomes athletes during the partnership announcement Tuesday morning. Photo: Tyson Fedor/CKRW.
Telecommunications company once again steps up to support Special Olympics Development Games to be held in Carmacks next month.
The 9th annual Northwestel Development Games will be in Carmacks on July 23rd.
Special Olympics Yukon and the telecommunications company say they expect close to 40 athletes and 12 coaches to partake in the games.
Curtis Shaw with Northwestel says the partnership with Special Olympics Yukon dates back a number of years.
"We've been involved with it for about 15 years." Shaw said. "We see lots of great opportunities with local athletes, and kids, and getting involved in sport."
"We spend about $200,000 a year on youth sport across northern Canada, and we find Special Olympics here in the Yukon just a great event to sponsor."
The games will take place at Merv Tew Park and the Recreation Centre.
Sports include soccer, golf, swimming and floor hockey.