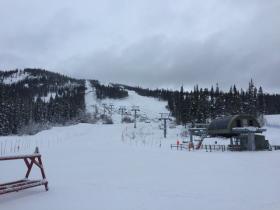 Mount Sima - Tyson Fedor/CKRW
The Friends of Mount Sima Society have paid back their outstanding debt to Softball Yukon.
WHITEHORSE - $20,000 was loaned to the Mount Sima Ski Hill in 2013 to help cover a deposit ATCO Electric Yukon required the society to pay to power the ski lift.
Outgoing Friends President, Laurie Henderson says business has been booming since the fall of 2013, and the hill is now able to pay back the money.
"I think when we re-opened in 2013, there was a strong sense that it was a community hill, and that people were invested in it and saw how important it was." Henderson said.
"There's been some significant promotional work done, families are coming out, so I think those are all things that are contributing to the increase of the users that are up here."
The hill originally closed in the summer of 2013, after city council rejected a request from the hill of 620 thousand dollars to remain open.
George Arcand, with Softball Yukon says they were never going to let the city run hill come crashing down.
Arcand was presented with a cheque for $18,000 as $2,000 of the loan was not used.