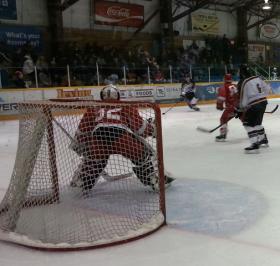 (Capitals goalie Aaron Hinton gets ready to make a save Saturday night. Photo: Tim Kucharuk/CKRW)
The Whitehorse Huskies picked up a couple of wins on the weekend over the North Island Capitals from Port Hardy.
It was 9-6 on Friday night, and 5-1 on Saturday night in front of about 700 fans at Takhini Arena.
Huskies Coach Michael Tuton says he's excited the way the weekend went, as the team is starting to gel, and play for each other.
"I still don't think we've hit our stride yet." Tuton said. "I think we could bring it up a level, and I think if we're going to go and it chase our goal of the Coy Cup that we're gonna have to bring it up a little bit, but I'm real happy with where we're at four games in."
The Huskies could have had a lot more goals Saturday night if it wasn't for Capitals goalie Aaron Hinton who made several acrobatic saves.
"We had a tough time breaking out of our own end, and chipping them off the glass." Hinton told reporters after game two. "The Whitehorse guys are just so fast they were coming back in waves, dropped passes, and firing pucks on the net. It was tough to control for a while. We were pretty tired from flying up here. It's tough but fun."
Next up for the Huskies is a visit from the Powell River Regals in two weeks time.