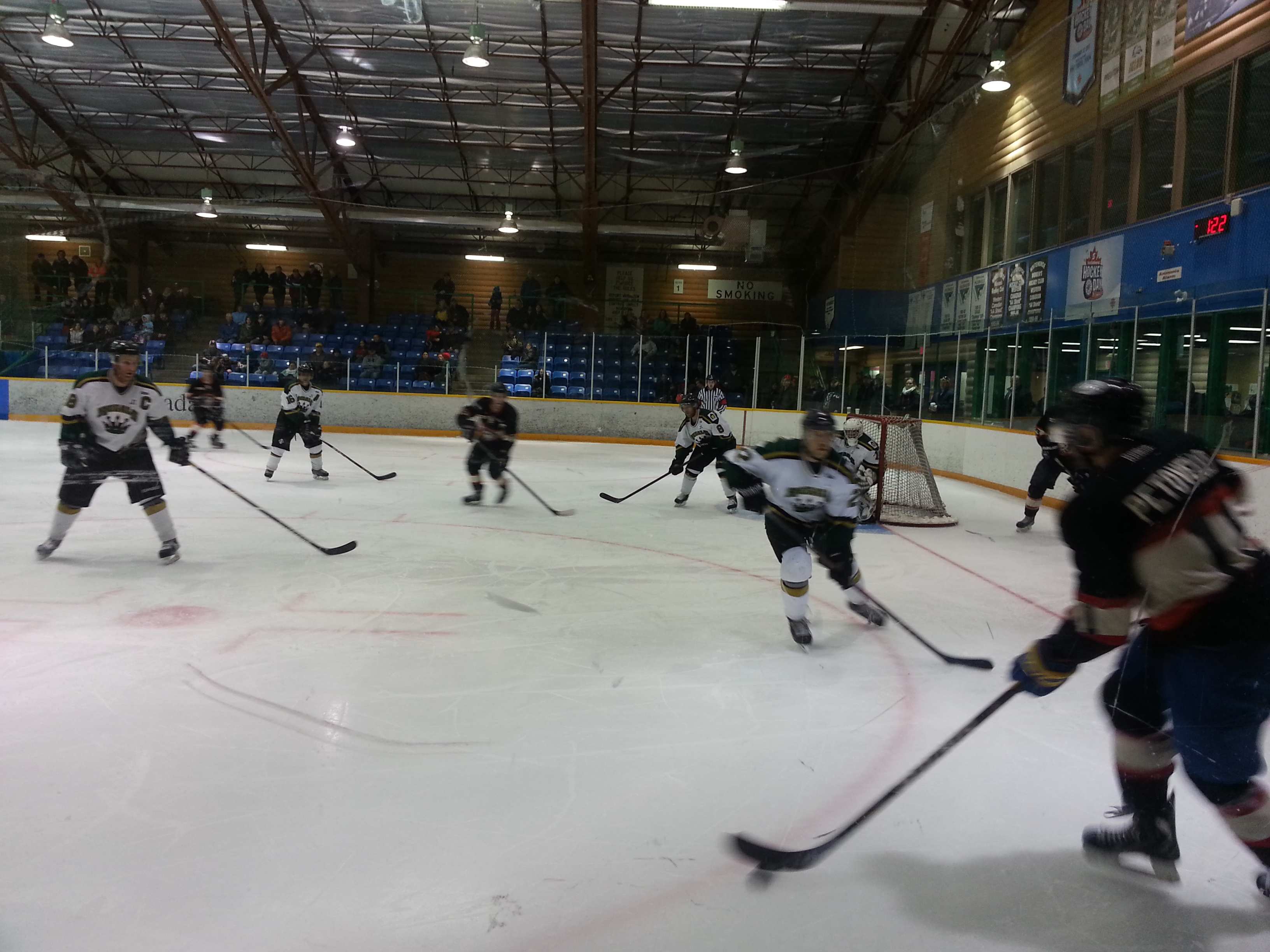 Huskies forward Kevin Petovello looks to set up a scoring chance during Sunday's win. Photo: Tim Kucharuk/CKRW
Whitehorse defeats Powell River Regals in three game series to advance
The Whitehorse Huskies have advanced to the Coy Cup tournament in Terrace B.C. next week.

The Huskies toppled the Powell River Regals 8-3 in the third and deciding game of their weekend series Sunday.
The teams splitting the first two contests, as Whitehorse took the first game 13-5 on Friday, and Powell River bounced back with a 7-2 win Saturday.
The final celebration from the Huskies after defeating Powell River 8-3 pic.twitter.com/cuagCsfqeC

— Tyson Fedor (@Tyson_Fedor) March 13, 2016
Head Coach Michael Tuton, says it was a back and forth series.
"We knew Friday we have to take advantage of the travel day." Tuton said. "Saturday, we knew they were going to be rested and (bounce back). Sunday, we just had to get back to work and play the Huskies style of hockey that's been successful for us all year."
Head coach @GiantBeast22 talks about his teams Game 3 victory over the Powell River Regals. @867Huskies onto Coy Cup pic.twitter.com/XZH6s4rbR8

— Tyson Fedor (@Tyson_Fedor) March 13, 2016
Huskies forward Rob Warner says their top line of Adam Henderson, Kane Dawe, and Evan Campbell, came alive in the series.
"We had the character guys show up." Warner told reporters after the victory. "That one line, just unbelievable, (an) unstoppable kind of thing when they're going, they're going. They're really the heart and soul of the team because (Henderson) and (Campbell) just score, and (Dawe) is such an agitator out there. It's a lot of fun to watch."
Huskies will contend for the Coy Cup in Terrace starting March 22nd.
It's a final. @867Huskies 8 Powell River 3. Huskies off to the Coy Cup. pic.twitter.com/8mERzhafal
— Tim Kucharuk (@TimKucharuk) March 13, 2016