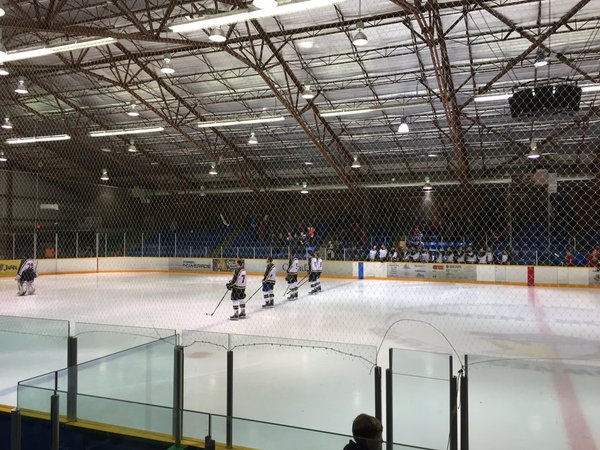 Huskies ahead of Game 2 at the Takhini Arena - Tyson Fedor/CKRW
The Whitehorse Huskies earned a split in their opening weekend against the Whitecourt Wild.
Forward Derek Klassen, played a big part in the 6-5 come from behind victory on Sunday night, grabbing a goal and three assists, and the player of the game says the results were expected.
"Two one goal games, at the end of the day it's exactly what we need and whether we wound up on the right end of them or not. At this time of year is not a not a big thing. Obviously it's nice to get the win but just good to get games and start to play the game the right way." says Klassen.
The Wild took game one 7-6, and Wild goaltender Kirk Irving, says he knew his team had to be ready.
"We knew we had to come in here and play very well because that also translates into league play. We got a game coming up on Wednesday against a Drayton Valley team there. That's an important game as right now, we're trying to catch teams in front of us, so it was important coming here and playing well." says Irving.
Sunday's victory over the Wild, had late game heroics from Forward Derek Klassen, and Kevin Petovello, who made an impact on the weekend series,
Petovello says the team found a way to win.
"It's funny, sometimes on the bench it felt like we were winning but we never really were and it's actually kind of nice to come from behind." says Petovello.
The Huskies trailed all weekend, except for Klassen's late goal with under 90 seconds to play, and Head Coach Michael Tuton says his team was making sure they came away with at least one victory.
"We didn't want to lose two in a row. We talked about that in the dressing room, that no matter what we do this year, we don't lose two in a row." says Tuton.
"We come out, we stick to the plan. We'll played them for two games and their goaltender stood on his head."
The Huskies will play their next two home games on January 8th and 9th against the North Island Capitals.