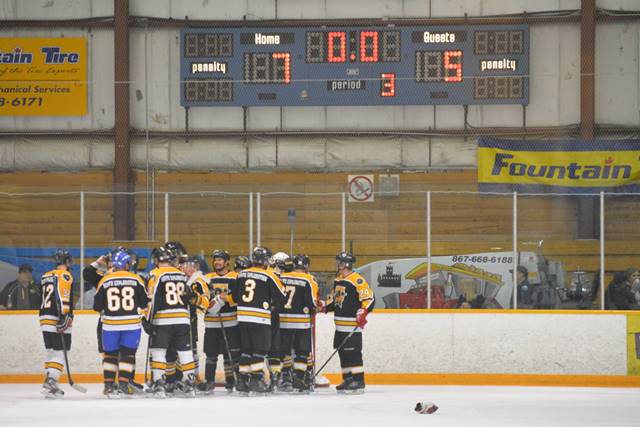 The Selkirk Bears celebrate their B division title. Photo: YIHA/Facebook
39th Yukon Native Hockey Tournament draws 43 teams for annual springtime tournament.
It was a busy weekend of hockey in Whitehorse, as the 39th Yukon Native Hockey Tournament drew hundreds of fans.
The Junior Talhtan Selects knocked off the Whitehorse Warriors in the Gold Medal game of the youth division, with Talhtan goaltender Torin Cumiskey, making a number of key saves in the third period to preserve the 2-0 shutout victory.
"I was just trying to keep it out of our end, (and) out of our net." Cumisky said. "I'm pretty excited, and I think they're (teammates) are excited too."
Assistant Coach Kyle Zubek says the play of Cumiskey, was the difference.
"All the time when the goalie makes a big save like that, the team is going to rally around him." Zubek said. "He was amazing. You can't ask anything more out of a goalie like that, and the whole team seemed to feed off of that."
In the A division final, it was the EGT Nanooks from Tuktoyaktuk defeating the CA Storm 6-2 to defend their title.
The Selkirk Bears won the B division, while the AK Knights from Aklavik took the C division, and the Tahltan Selects won the jamboree division