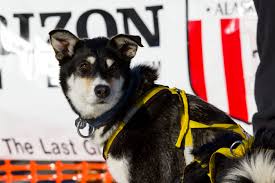 Hans Gatt's dog (knom.org)
Whitehorse musher Hans Gatt, four time champion of Yukon Quest scratches due to concern for his dogs.
Veteran Whitehorse musher Hans Gatt has pulled out of the Iditarod.
According to the Alaska Dispatch News, Gatt scratched at the Nikolai checkpoint this morning, as he had concern for his dog team.
The 57-year old, who finished in the top ten during his past five Iditarod's, was running 54th at the time, with 15 dogs on his team.
Gatt is a four-time champion of the Yukon Quest.