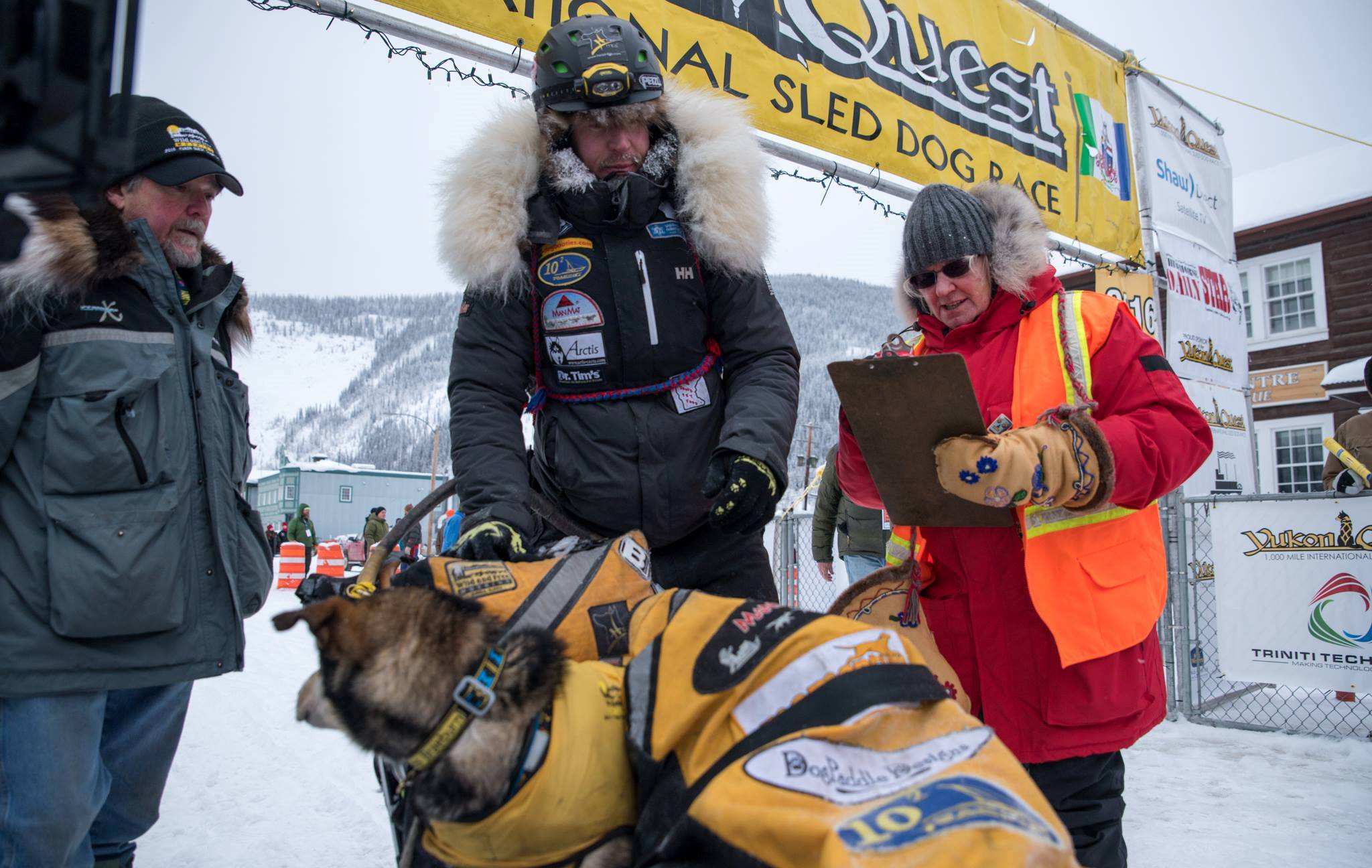 Brent Sass checking his gear at the halfway mark in Dawson. - Yukon Quest 2016/Whitney McLaren
Neff, Sass, Moore and Hall have all entered Dawson.
Brent Sass, Allen Moore, Hugh Neff and Matt Hall have all made their way across the halfway mark today in Dawson City, of the 33rd Yukon Quest.
Sass will now have to cross the finish line of the one-thousand mile dog sled race in Whitehorse, to receive four ounces of Klondike Placer Gold. He arrived at 12:22 PM local time, and says his dogs were fighting problems before the race started.
"They kind of started the race with a bit of a stomach bug, and then the stress of the race I think got them and they were fairly sick for the first three or four days of the race." says Sass.
"I had to deal with a lot of stuff that was much different. Last year I would throw anything at them and they'd eat it like alligators. This year I had to give them a buffet of food every single meal."
Moore blew through Clinton Creek just after 6 am, and arrived two hours after Sass.
Neff sits in third after trickling in across the Dawson checkpoint at 2:57 this afternoon, while hall is fourth in the race.
Quest Race Marshall Doug Grilliot says there is a few reasons why, only one musher has scratched so far, at this point in the race.
"It's a number of reasons. The really good trail conditions that we have had. The really nice weather we have had,and I'm really happy with the team this year, all of them were very well prepared." says Grilliot.
Ed Hopkins from Tagish didn't stop at Clinton , rather blew by the checkpoint, and is sitting about 19 miles outside the Dawson checkpoint.
Torsten Kohnert, appears to be resting at Clinton Creek, after coming over the American summit and into Yukon.
Tom Frode Johansen had taken a rest at the bottom of the Summit, earlier today, and will most likely steamroll his way past Clinton Creek, as he's 12 miles from the checkpoint.
Seth Barnes, is continuing to carry on after the American summit, while Andrew Pace is finishing up a four hour rest at the bottom.
Yuka Honda, Mike Ellis and Dave Dalton all left Eagle this morning, and are currently resting 42 miles from Clinton Creek checkpoint.
Cody Strathe, and Page Drobny finished up their mandatory four hour break in Eagle this morning and sit about 42 miles out from Clinton Creek, as they take another rest.
Mendenhall's Luc Tweddel is the first out of Eagle after a mandatory rest, but seems to be stopped with Whitehorse's Rob Cooke on his tail. .
4 mushers sit in Eagle, including Rookie Laura Neese from Michigan, and Gaeten Pirrard, who has been in Eagle for over 6 hours.
Tore Albrightsen is one of the four in Eagle, after stopping at Trout Creek earlier.
Tony Angelo finds himself 10 miles from Eagle.
Hank Debruin is in Trout Creek, with 9 dogs still on the line. He had an issue with one of his dogs Monday afternoon, as Charlie had to be airlifted to Circle City. According to DeBruin's Facebook page, she is doing great and has moved from her hospital room, to Circle jail, which is the veterinarians office during the Quest.
UPDATE: 5:11PM Pacific Time