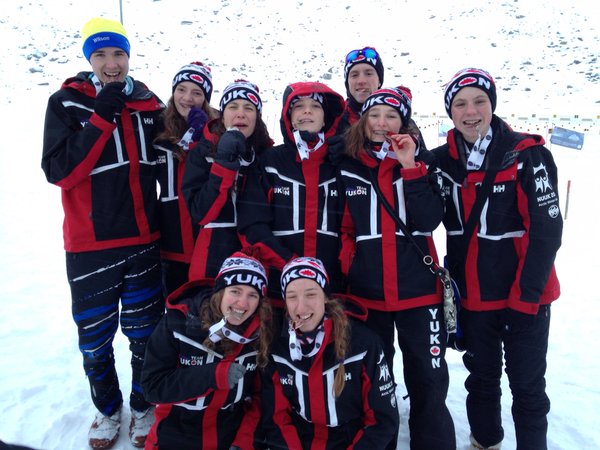 Team Yukon Athletes with ulu's on Day 2 -(Go Team Yukon - Twitter)
Yukon finished off Day 2 with 28 ulus, sitting in second in the medal standing.
Team Yukon secured 9 gold ulus, 10 silver's and 9 bronze.
Alpine skiing racked up three ulus in slalom, Robin Poulter took home a gold ulu in the Kneel Jump and Matt Jacobson tied an Arctic Winter Games record with a gold, in the One Arm Reach.
The basketball girls beat Nunavut, 64-59.
The Yukon boy's basketball played Nunavut in their second game at the tournament, taking it 85-67, with an 19-7 route in the final quarter.
Liam Adel for the junior boys team picked up a gold ulu in biathlon skiing.
Three silver ulus were won in the event, one from Romeo Champagne in Juvenile male, and Dana Sellers in Juvenile female, along with Maria Peters in junior female.
Bronwyn Goodwin-Williams in Juvenile female; and Micah Hildes of Junior female each one a bronze ulu.
In biathlon snowshoe, Aidan Adel, Marika Kitchen and Bruce Wilson all won a bronze ulu.
Biathlon Snowshoe
Jedrek Dendres won a gold ulu, Maureen McGinty won a silver and Tyler O'Brien got a bronze ulu in the Dene games.
Tim Schirmer notched a bronze ulu in slalom snowboarding.
In snowshoe Breda McIntyre clinched gold.