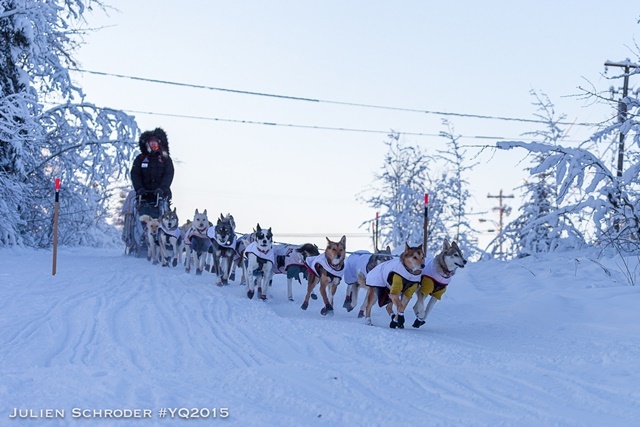 Allen Moore and his team near Dawson during last year's race. Photo: Julien Schroder/Yukon Quest
Annual 1000 mile dog sled race starts in Fairbanks Saturday at noon Pacific time
Final preparations are underway for the 33rd Yukon Quest.
Alaska Executive Director Marti Steury says hundreds of people are preparing for Saturday's start.
"The trail breakers have been out facing lots of jumble ice, and trying to do their very best to make it a good trail." Steury said. "But you know, it's the Yukon Quest, and we have faced this year after year after year so ready or not here we go!"
Thursday night in Fairbanks, the mushers drew their bibs, and determined who will start where when the 23 mushers hit the line Saturday.
19-year old rookie Laura Neese from Michigan will lead the way, followed by veteran Mike Ellis, then Ed Hopkins of Whitehorse, and two-time champion Allen Moore.
Notable starts including defending champion Brent Sass ninth, 2012 champion Hugh Neff 22nd, Cody Strathe 14th, and Whitehorse's Rob Cooke 20th.
The top 10 mushers will split the $115,000 U.S. purse.
You can hear the start of the Quest on the RUSH starting just before noon Saturday.