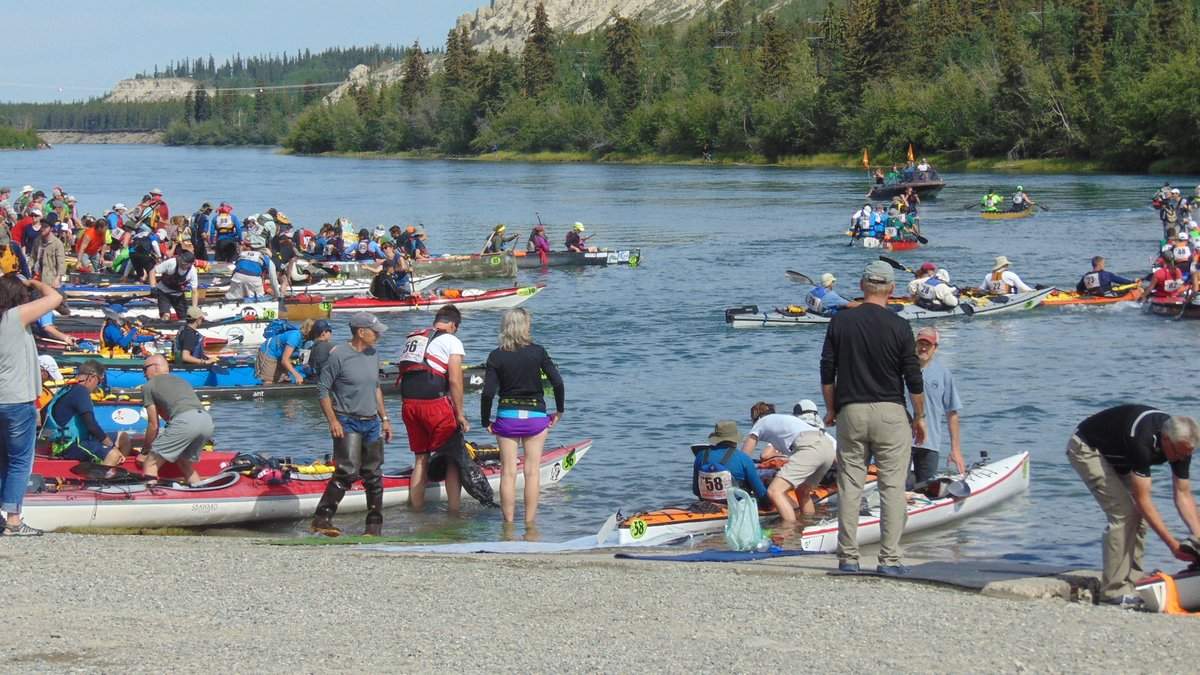 Yukon River Quest 2016 - Tyson Fedor/CKRW
Stand-up paddle-boarders are taking part in the race for the very first time, after rules were made to include stand-up paddle boards.
The 18th annual Yukon River Quest is underway, as close to 240 competitors hit the fast flowing Yukon River in Whitehorse.
Tony Bain of Wales, is one of 12 stand-up paddle boarders in this year's race and says the support he's received has been surprising.
"We're feeling pretty special actually." said Bain.
"We've been around town for the last few days and everybody that finds out we're paddle-boarders are like 'Oh wow, you're a paddle-boarder!' So that's cool. The town's really behind us and I think it's gonna be really good for the town and (for) tourism, having SUP enter the event."
Bain didn't know if he would even be competing as of 8:30 this morning as his paddle-board and equipment were still in transit from the United Kingdom.
The first checkpoint of the 715 kilometre race to Dawson will be Policeman's point.
The 18th annual @YukonRiverQuest from Rotary Park in Whitehorse about to get underway in 25 minutes time. pic.twitter.com/0G3JssCI2I

— Tyson Fedor (@Tyson_Fedor) June 29, 2016
Teams are ready from the start of the @YukonRiverQuest. Dave Hutchison is competing in his 4th race, 3rd as a solo. pic.twitter.com/iGO4wnQTc5

— Tyson Fedor (@Tyson_Fedor) June 29, 2016
ICYMI: 18th annual Yukon River Quest got underway in Whitehorse today. pic.twitter.com/IQQq2FcXRL

— Tyson Fedor (@Tyson_Fedor) June 30, 2016
S.U.P Tony Bain of Wales, says its his first time in YT &his board and equipment didn't arrive until 8:30AM today. pic.twitter.com/b2amBgSywl

— Tyson Fedor (@Tyson_Fedor) June 30, 2016