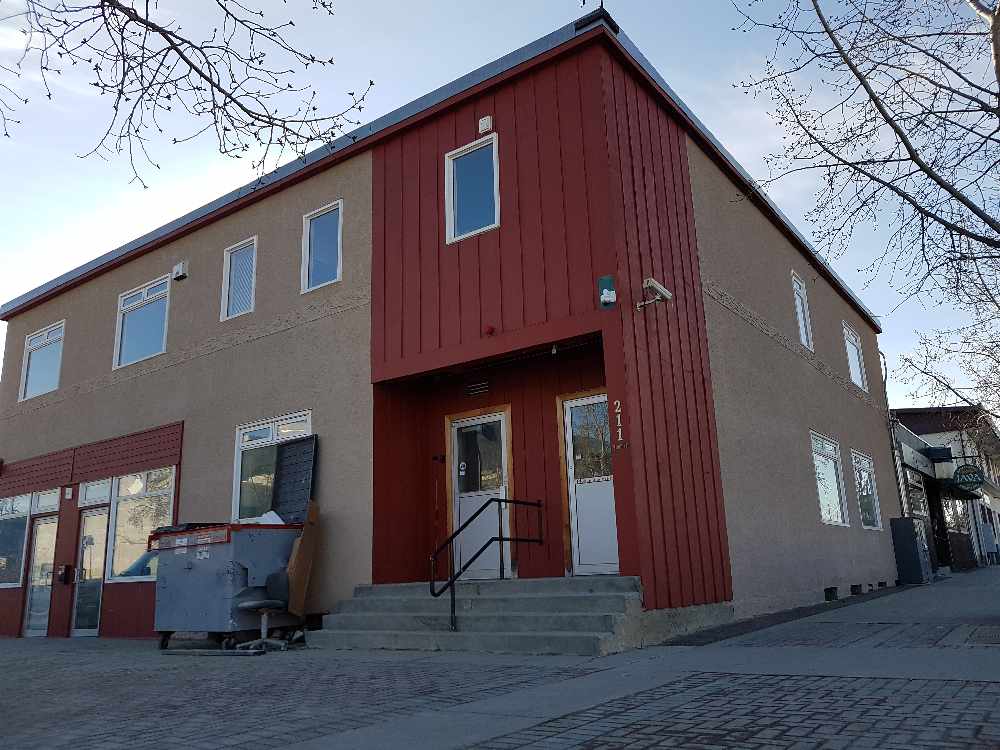 The old Yukon News building on Wood Street will be home to Yukon's first private cannabis retailer. Photo: Tim Kucharuk/CKRW.
The owners of Triple J's Music have been at the forefront as the private sales system has been developed, and are working hard toward a store opening April 17th.
Yukon's first private cannabis retail outlet hopes to open next week.
Jordi Mikeli-Jones and Jeremy Jones have plans to open Triple J's Canna Space in the old Yukon News building, offering not only cannabis, but accessories, cultivation equipment, and consultation.
Mikeli-Jones says they submitted their order to the Liquor Corporation on Friday with the realization there are not only shortages here in Yukon but across the country.
"We know the warehouse is doing a lot, and purchasing what they can," she said. "I know they're not quite getting the fulfillment they were hopeful for, but we look forward to working with the Yukon government in influencing future decisions as they relate to products."
She expects an operating license to be issued by the Liquor Corporation on Monday.
When asked about the high government price point, Mikeli-Jones says her store will offer products below what it would cost at Cannabis Yukon.
"We are hopeful to capture the majority of the market share through doing that. We know that pricing went up on April 1st at Cannabis Yukon, and we know that it's also a source of discontent for consumers."
"If that's something we can help (with) and although it affects our profit margin, we want to get out there and just remove some of those barriers to access."
The Jones' were on hand at Monday night's city council meeting as council gave final approval to rules governing private pot shops in the city.
Jordi says she's excited and relieved the rules are in place, and it's all hands on deck to get the shop open on April 17th--just in time for the cannabis culture celebration known as 4/20.