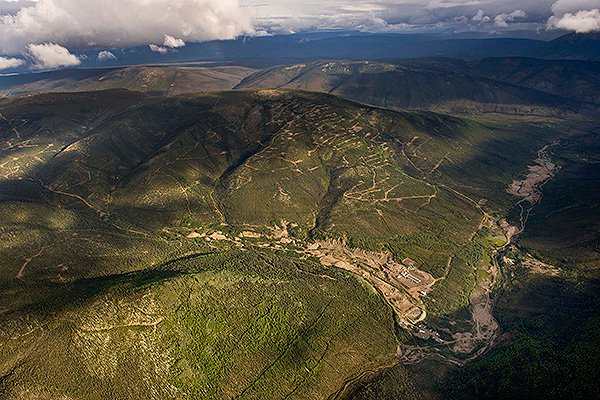 Victoria Gold's Eagle Gold project north of Mayo is a factor as the Conference Board of Canada issues a rosy economic outlook for the territory. Photo: Victoria Gold.
In the latest territorial outlook, the Conference Board of Canada says Yukon GDP could grow by over eight per cent this year.
The Conference Board of Canada says Yukon's Gross Domestic Product growth is set to make a dramatic turn upward.
The board says in its territorial outlook, GDP could reach over eight percent this year.
The outlook says mine construction could fall slightly in 2019, but will ramp up year over year by up to 40 per cent until 2020-2021.
Director of Provincial and Territorial Forecasting Marie-Christine Bernard says that is thanks to the potential of three new mines opening.
"The outlook is actually very robust, with mines that are going to be under development, then producing." Bernard tells the RUSH.
"Between 2019 and 2025, we have growth that will be averaging for the economy as a whole 6.2 per cent, so that is a very robust outlook."
Bernard says they monitor the industry's volatility as best they can.
"Canada is a price-taker on the global market, so if commodity prices decline, or aren't as robust and don't lead to the development of new mines, that's something we assess every time we do our forecast."
"We do (a forecast) twice a year, so we try to capture the changing trends, and whatever new development is happening."
The board says the territory saw a contraction in its GDP of 1.6 per cent for 2017 as a result of slow mine activity and depressed markets.
As for the other two territories, new gold mines and the expansion of existing mines are expected to generate growth of well over 10 per cent in Nunavut by the end of next year.
While two new mines are expected to open in Northwest Territories, its economy is expected to falter as diamond production scales down.
(With copy from The Canadian Press.)