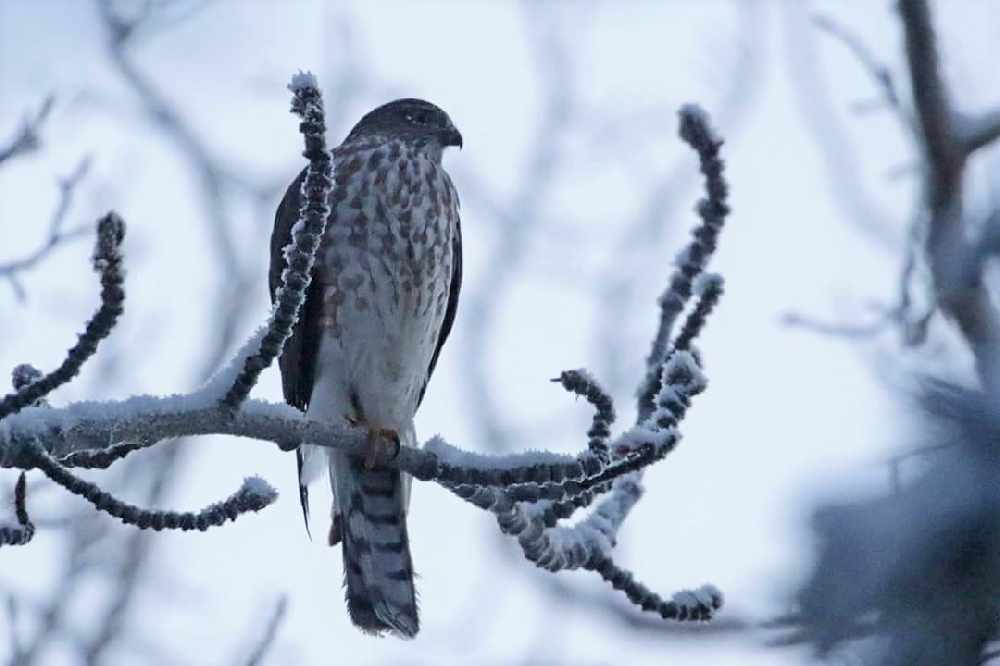 A sharp-shinned hawk was one of the birds spotted in the Whitehorse area during this year's Christmas Bird Count. Photo: Cameron Eckert/Yukon Bird Club/Facebook.
The annual holiday birding excursion has uncovered some of the regular as well as new species wintering in the territory.
Yukon bird enthusiasts are taking part in a holiday tradition going back 40 years in some communities.
The Yukon Bird Club has been coordinating the Christmas Bird Count for the past week, and the club's Cameron Eckert says low counts were expected due to the colder than normal weather, but that's not been the case, as 25 species were located in the Whitehorse area.
"Some of the interesting things were a record high number of mallards up along McIntyre Creek, 116 mallards up there." Eckert told the RUSH.
"There were also Common Goldeneye, and Common Mergansers along the river. And many hundreds of Bohemian Waxwings which have lingered through the fall."
Counters in Tagish found 17 species, including three brown creepers which are rare for the area at this time of year.
Carcross and Haines Junction found 20 species each.
He says climate change is affecting which birds are wintering in the territory.
"Over time, with these warmer winters, we have been seeing a real increase in these fringe species that we never saw in the winter time in the Yukon before." said Eckert.
"Now (near Johnson's Crossing) we have a regular wintering population of Trumpeter Swans."
Eckert says the data will be entered online, and add to information from Whitehorse and Marsh Lake going back four decades.