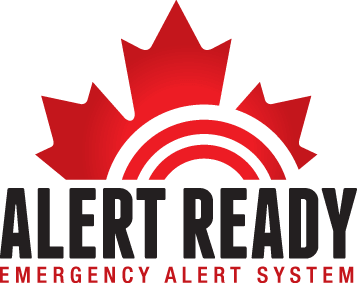 (AlertReady.ca)
The territory's Emergency Measures Organization says the 'Alert Ready' system will be tested Wednesday, and will help warn residents of possible disasters in the future.
Yukon's Emergency Measures Organization says it will be testing the territory's alert system on Wednesday.
Director Diarmuid O'Donovan says the alert will be sent via phone, radio, and television and could be used during a real emergency at a moment's notice to tell people what to do and where to go.
"Any sort of large scale disaster or emergency where the loss of life is possible and imminent so if a water main were to break on 4th avenue, that wouldn't necessarily merit a use of this system but if flooding was going to negatively affect Dawson City, and with life being threatened by that prospect, then this system could be used."
O'Donovan says the test, at 1:30 p.m. will be clearly labelled.
"The message that we'll put out will be very clear in stating that this is only a test, over the radio networks, television networks, and compatible cellular handsets. It'll be a very clear test that will say that it is only a test and that if it had been an actual emergency or threat, you would now hear instructions that would assist you to protect you and your family."
O'Donovan says the alert can also be localized to specific communities and people who are curious what the test will look and sound like can visit Alertready.ca.