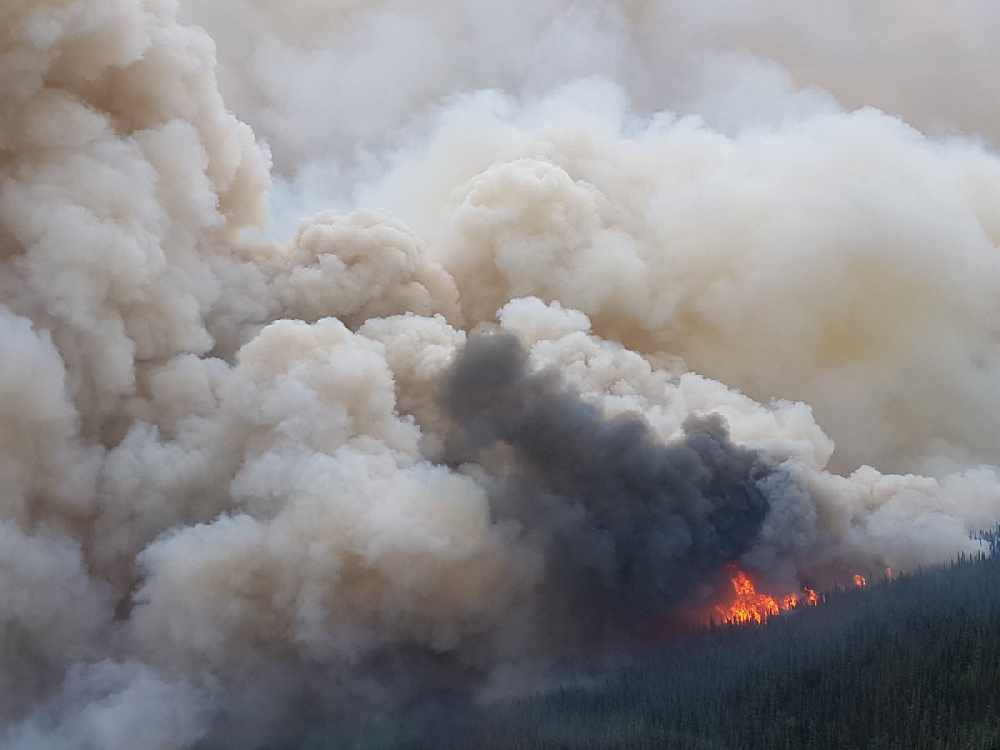 The Alkali Lake Fire near Telegraph Creek this week. Photo: BC Wildfire Service.
As the weather helps firefighters in Telegraph Creek, a reception centre is opened in Whitehorse, and a member of the Tahltan Nation gives thanks.
The BC Wildfire Service says Mother Nature is helping firefighters battle the Alkali Lake fire near Telegraph Creek.
Fire officials say the blaze received 2.5 millimetres of rain Thursday and projected wind from a passing cold front did not materialize.
The Wildfire Service says work continues to restore power, and smoke is significant in the area.
Officials say crews and air support are working to minimize further impact to the community of Telegraph Creek.
Crews are also working to protect culturally significant sites and infrastructure in the area, with burn operations being used if conditions allow, to secure the south flank of the fire.
The blaze is now mapped at 30,000 hectares.
There are no evacuation alerts or orders for Dease Lake, where hundreds of evacuees have been waiting for any bits of information for the past few days.
Yukon Health and Social Services says they are ready to receive evacuees from Telegraph Creek.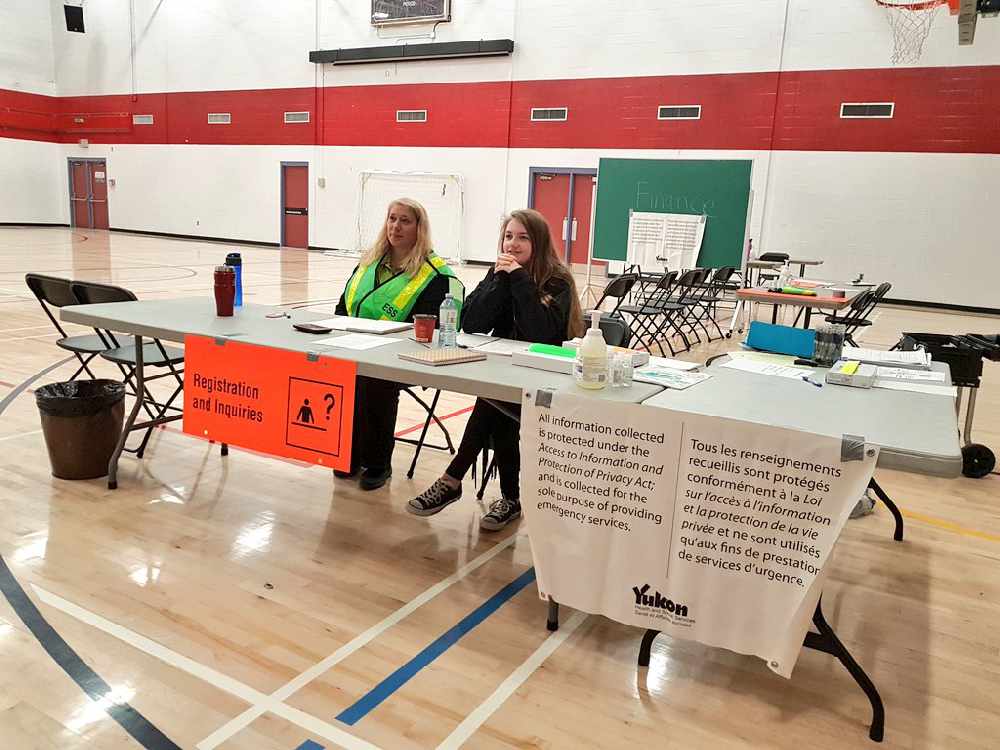 The request from the BC government came in on Thursday.
A reception centre at Vanier Catholic Secondary School in Whitehorse opened Friday morning, and the department's John Coyne says they've been in contact with some who have been displaced by the fires who will be arriving later Friday.
Coyne says the centre is offering primary services.
"Registration and family reunification inquiry, group lodging, meals, and assistance with pets and companion animals, and we've also begun working with our local community to provide large and wildlife animal supports as well." Coyne told reporters outside the school late Friday morning.
(Inset: Workers are ready to take in evacuees. Photo:Tim Kucharuk/CKRW)
Coyne says Yukon can accept up to 400 evacuees if need be.
"We're prepared at this time for a surge at a maximum of 200, and from then on, we'll be able to put extra supports in place as needed."
He says donations are not being accepted at Vanier, as the main focus is on receiving evacuees.
Also, the Yukon government is announcing it will be making a $25,000 donation to the relief effort.
Meantime, a prominent member of the Tahltan Nation in Yukon says there's a lot of loss in Telegraph Creek from this week's fires.
However, cabinet minister Jeanie Dendys says the support from Yukon and northwestern BC has been incredible.
"The community continues to rally around, and really work to get people to where they need to be, and to ensure that supplies are brought in."
"People have been so generous. The Tahltan Nation is so very grateful for all of the support that we've received."
Dendys says there's been a lot of loss in the Telegraph Creek area.
"The hearts of our people are really quite broken right now." Dendys said.
"We're strong people. We're very resilient, We're united, and we'll do whatever we need to (do) to rebuild."
Dendys says she was heading to Telegraph Creek for an end of fishing season music festival last week when the fires broke out, but continued on and helped with the evacuation.
She adds the Tahltan have strong leadership with Chief Rick McLean at the helm.
John Coyne with #Yukon Health and Social Services talks about what Telegraph Creek evacuees can expect at the reception centre in #Whitehorse. pic.twitter.com/QGc2Jmc7IB

— Tim Kucharuk (@TimKucharuk) August 10, 2018