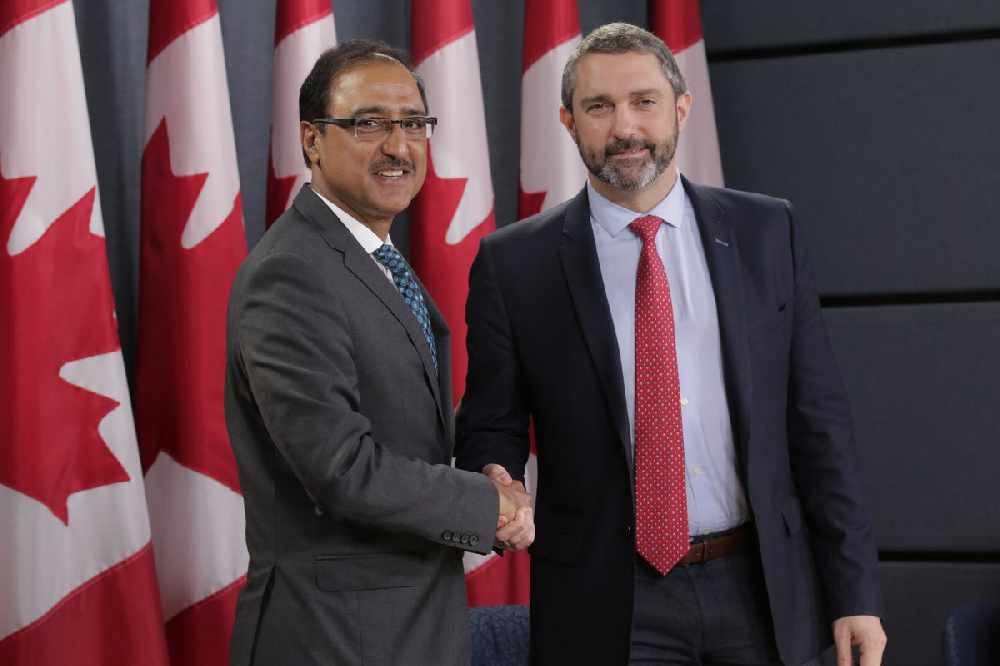 Federal Infrastructure Minister Amarjeet Sohi, (left) shakes hands with Yukon Premier Sandy Silver after signing a new infrastructure funding agreement Thursday morning. Photo: Government of Canada.
Ottawa is pledging $445 million for infrastructure funding in the territory over 10 years, with the figure reaching $594 million with the help of territorial, First Nation, and municipal partners.
Yukon and the federal government have signed a bilateral agreement which will see the territory receive more than $445 million.
Speaking at an announcement in Ottawa Thursday morning, Yukon Premier Sandy Silver says the money will be used over ten years to reduce greenhouse gas emissions, and reliance on diesel, along with improving waste management, and developing housing.
He says the money will also be used to improve cultural spaces and make communities more efficient.
"It will enable the government of Yukon, and its partners, which include First Nations governments, municipalities, and communities, to strategically plan, and invest in local infrastructure." Silver told reporters.
"The Investing in Canada infrastructure program will put Yukoners to work building essential infrastructure."
With 25 per cent of the funding coming from project partners, the total infrastructure investment could reach $594 million.
Silver says the money will help set the direction for the future.
"If you go public accounts to public accounts, you'll see that historically as a territory, we would have governments that would say they would build a lot more than they actually (could)." Silver said.
"Working with Minister (Amarjeet) Sohi's office, and working with (MP) Larry Bagnell as well, just to identify what we can get out every year to make sure we have a healthy, capitalistic market in our communities is very important."
Silver says the investments will help ensure Yukon's communities are healthy and vibrant, but wouldn't say if money has already been allocated to certain projects.