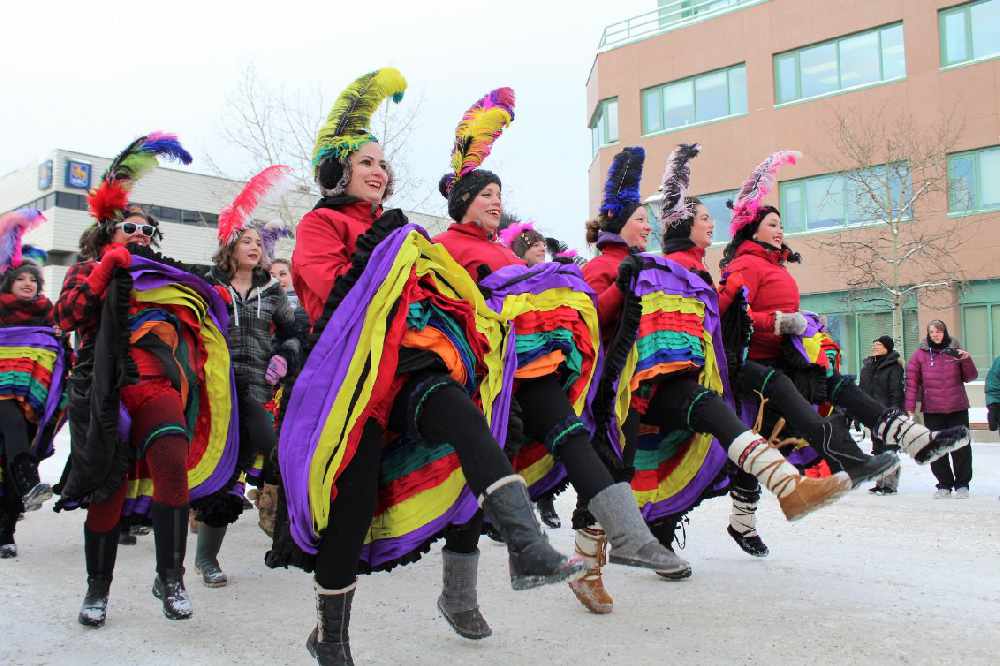 The can-can dancers began their busy weekend in the Sourdough Rendezvous kickoff parade Friday morning. Photo: John Kennedy/CKRW.
Events in Whitehorse began in earnest Friday morning with the opening parade, and the festival is expected to draw thousands as Yukon collectively shakes its fist at winter.
The 55th Yukon Sourdough Rendezvous Festival takes over Whitehorse this weekend.
While some events have already come and gone, the majority of activities happen through Sunday with Rendezvous moving to the Kwanlin Dun Cultural Centre this year from Shipyards Park.
Executive Director Dave Blottner says while the snow sculptures, air show, and dog pull will not be featured this year, many of the traditional activities are back.
"All of your favourite outdoor events--flour packing, axe throwing--it's all going to be there on the grounds around the Kwanlin Dun Cultural Centre."
"Then inside, is where you're going to see Kidsfest, and the main performance stage where performers from as early as 10 in the morning, all the way until the stage closes in the evening will be performing for people's pleasure."
Blottner says Rendezvous provides a chances to get out and shake off your cabin fever.
"Rendezvous for us, has always been a time about coming together, doing some stuff a little bit silly, and letting the winter know it's over and it's time for us get moving forward and be a community together."
"This weekend, everything is going to be happening, and that's what it's all about."
The Keystone Kops, Mr. and Mrs. Yukon, the Can-Can dancers, Canadian Military, local High Schools, MP Larry Bagnell and others paraded down Main Street Friday morning bringing out hundreds of Yukoners.
Saturday night, this year's Rendezvous Queen, and Sourdough Sam will be crowned and knighted.
There's also the Pyro Musical fireworks show at 8:30 p.m. Saturday, and you can tune in to the RUSH to hear the show's music.
(The snowpad out front of the Kwanlin Dun Cultural Centre is ready for this weekend's Sourdough Rendezvous events. Photo: John Kennedy/CKRW.)