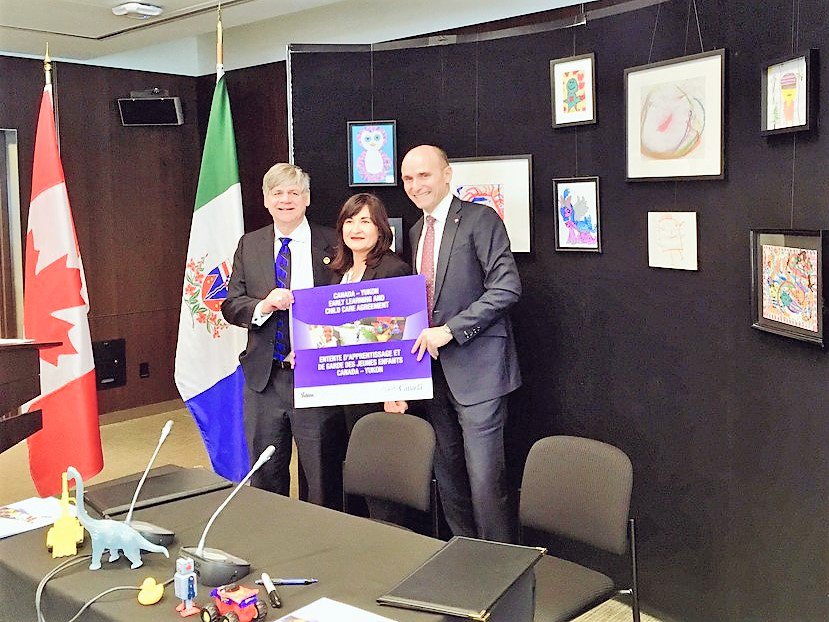 (L to R) Yukon MP Larry Bagnell, Health and Social Services Minister Pauline Frost, and federal minister Jean-Yves Duclos at Wednesday's signing. Photo: Government of Canada/Twitter.
The new $7 million deal over 3 years with the federal government promises to help providers and families, but the opposition says the agreement is short on details.
The Yukon government is signing on to a new three-year early learning and child care agreement with the federal government which both say will improve quality, accessibility, and affordability for families.
The two ministers in charge put pen to paper on the agreement in Ottawa Wednesday morning, which delivers on the framework agreement signed last June.
Yukon will get seven million dollars over three years, which will help with subsidy supports for grandparents caring for grandchildren, increased resources for Early Childhood Educators, retention of trained staff, and make childcare more inclusive.
The breakdown includes increasing the Direct Operating Grant for Whitehorse programs by 14.5 per cent, and rural programs by over 34 per cent.
This would be the first operating grant increase since 2007.
Other aspects of a proposed action plan include offering up nine spaces for children with parents suffering from addiction, and training for workers to promote the mental health of young children as well as Francophone and Indigenous programming.
Yukon Health and Social Services Minister Pauline Frost says the agreement will increase the quality of care at facilities throughout the territory but would not provide specifics on the outlined benefits including staff retention, spaces for those with special needs, or even specific timelines.

Frost would not say if each recipient would see an direct operating grant increase, and the government is still working with its partners to determine what type of programming should be created.
Frost could not provide details on when plans for the new funding could be in place, or how the funds would help retain staff in communities like Watson Lake where there is only one daycare provider.
That does not sit well with Watson Lake Yukon Party MLA Patti McLeod, who says she's not sure how the deal affects the town's daycare which has been closed since November.
The NDP's Kate White thinks grant increases should be tied to the rate of inflation, and there are other questions which remain.
While also adds a comprehensive child care strategy is needed.