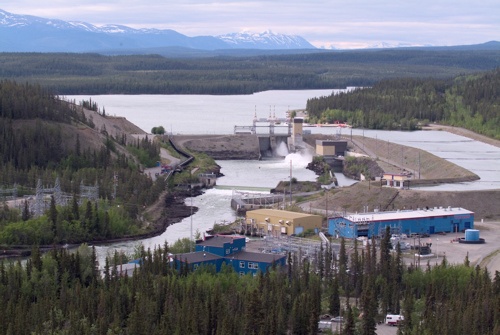 The Whitehorse dam (CKRW File Photo)
Yukon Energy says power consumption in the territory reached a new high, beating a record set only a month ago.
Yukoners have set a new power consumption record.
Yukon Energy says about 7:45 Monday morning, the grid was producing 92.99 megawatts of both hydro and thermal power which breaks the old mark set just over a month ago of 92.69.
The corporation's Janet Patterson says besides being a peak time of consumption, the cold was also a factor.
"It was minus 35 degrees yesterday morning in Whitehorse, colder further North, and that certainly did drive the amount of power that was used."
Patterson says despite the increasing records, the utility can supply upwards of 100 megawatts.
"It's so important to have what we call dispatchable power. In other words, power that's available on demand so that we can continue to provide people with power and people can continue to have their lights on and their homes warm."
Patterson reminds Yukoners during the cold snap to use what you need, and save where you can, touting Yukon Energy's InCharge program, where you can get rebates for vehicle block heater use.