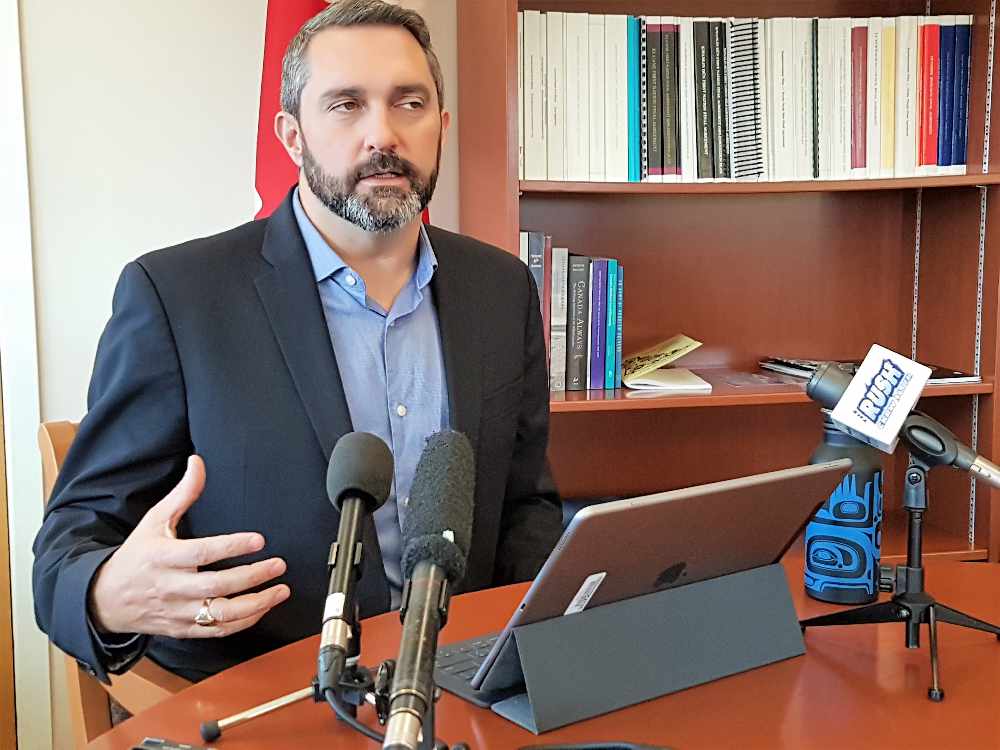 Premier and Finance Minister Sandy Silver tabled the audited Public Accounts in the Legislature Tuesday Afternoon. Photo: Tim Kucharuk/CKRW file.
Audited Public Accounts presented in the Legislature say the territory could be up to $58 million in the hole by 2021; Liberals blame previous Yukon Party government for the predicament.
The Yukon Government's Public Accounts for the past fiscal year ending March 31st show a deficit.
Tuesday's release of the documents in the legislature confirman announcement by Premier and Finance Minister Sandy Silver during the spring sitting, the government would be in a deficit, despite claims by the outgoing Yukon Party there was a surplus.
According to the accounts, the deficit for the year was $5.4 million dollars, which runs counter to the budgeted surplus of $9.4 million.
Silver told the legislature a lot of that spending was not budgeted.
"$4 million in payments due to meet pension solvency requirements for the Yukon Hospital Corporation. Yukon College of $500,000. $2.2 million in unpaid construction bills for the hospitals in rural Yukon, and (money) for Crocus Ridge residential construction."
Silver says other items include unbudgeted salary increases for the Yukon Employees Union, the MacBride Museum expansion and the Salvation Army's Centre of Hope.
Although the government is forecasting a surplus of three million in 2018-2019, the deficits will begin the following year, and will run between $42 million and $58 million through 2021.
According to the accounts, the government's net financial assets since 2015-2016 have declined by over 60 per cent from $223 million to $88 million.
To deal with the territory's finances, Silver put together a Financial Advisory Panel, which has been coming up with solutions over the summer, and is set to deliver a final report before the end of the fall sitting.