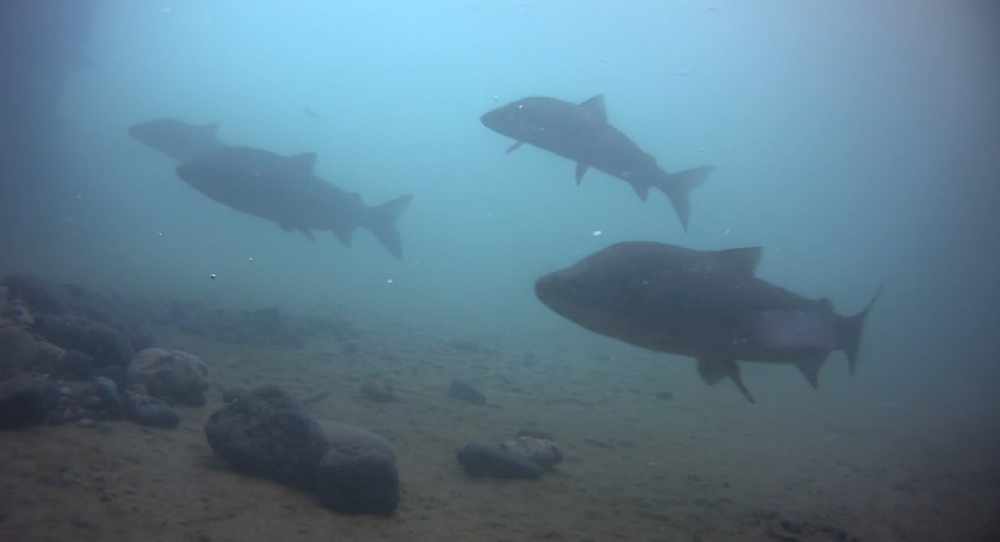 Chinook Salmon as viewed through the Fish Cam at the Whitehorse Fish Ladder. There will be no public or commercial Chinook Salmon fishing in the Yukon Rive this year. Photo: Yukon Energy/Fish Ladder.
The Yukon Salmon Sub-Committee says with numbers on the low side this year, fishing will be limited to First Nations only.
The Yukon Salmon Sub-Committee says there will be no public or commercial fishing of Chinook Salmon on the Yukon River this year.
The Sub-Committee says while they recommended last month, if levels of Canadian-origin fish were high enough, and First Nations fisheries not limited, there would be an opportunity for other fisheries, the numbers now indicate that's not the case.
A release from the group says First Nation subsistence needs will not be met, and the escapement numbers are at the low end.
As of last week, the projected total was 74,000 Chinook, with the Canadian-destination pre-season forecast between 71,000 and 103,000.
Declining runs have resulted in conservation efforts on both sides of the border, with no public fishing for Chinooks in Yukon in almost 10 years.