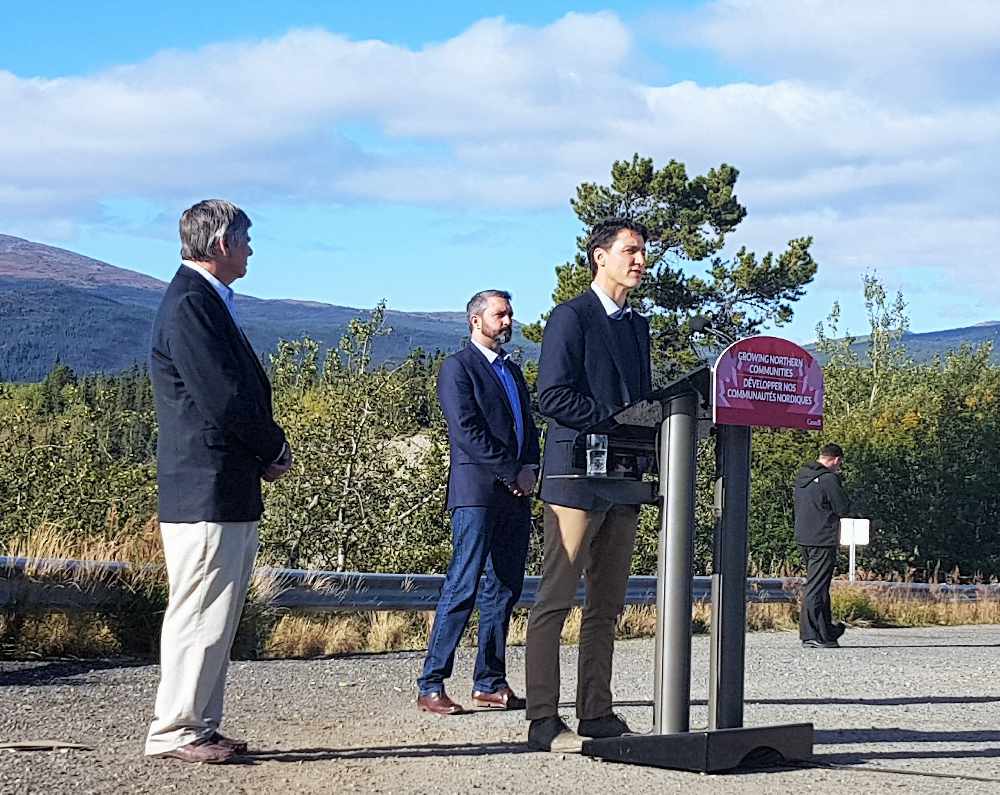 Prime Minister Justin Trudeau announced funding for the Resource Gateway Project in September 2017. The Yukon Government has a second agreement with First Nations in place for the project. Photo: Tim Kucharuk/CKRW file.
The Liard First Nation has signed a deal with the Yukon Government as the Nahanni Range Road is upgraded as part of the project.
The Yukon Government says it has reached an agreement with the Liard First Nation to begin the Nahanni Range Road portion of the Resource Gateway Project.
YG says it's for the first phase of construction on the road leading to two mineral projects under development--Golden Predator's 3 Aces Project, and Selwyn Chihong's Selwyn Project in the Howard's Pass.
The agreement has the First Nation collaborating with the government on the development, environmental assessment and regulatory aspects of the upgrades, which will include two bridge replacements, a bridge rehabilitation, and improvements to the road itself.
The government says the bridge replacement and rehabilitation component alone will cost about 17 million dollars, while the agreement provides funding for training, employment and business opportunities with the First Nation.
This is the second such deal with Resource Gateway, as the Little Salmon/Carmacks First Nation reached an agreement for the proposed Carmacks Bypass in March of last year.
In September 2017, Prime Minister Justin Trudeau announced in Whitehorse Ottawa was contributing over $247 million to the project, with the territorial government kicking in up to $112 million, and industry up to $108 million. The project would upgrade 650 kilometres of roads as well as the replacement of numerous bridges, culverts, and stream crossings.
YG says the project will create new access in areas of high mineral potential and active mining.