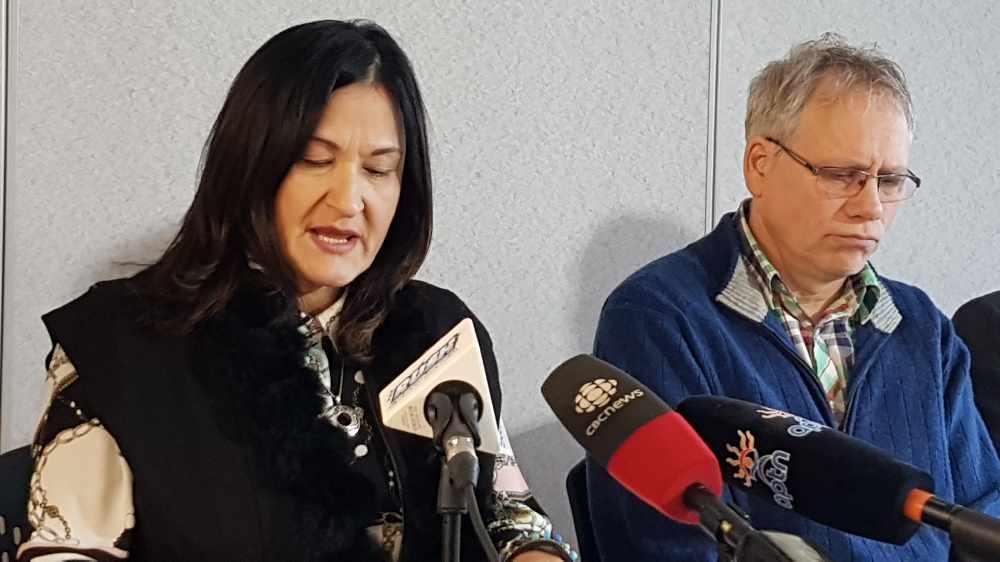 Housing Minister Pauline Frost (left) and Community Services Minister John Streicker at a press conference in October 2019. Photo: Tim Kucharuk/CKRW file.
The COVID-19 Rent Assist Program will see money flow directly to landlords to help tenants in the private housing market.
The Yukon Government is rolling out rent supports for people who have lost 30 percent or more of their income due to COVID-19.
Tenants having a rental lease for at least three months in private, non-subsidized housing can apply for relief retroactive to April 1st.
The COVID-19 Rent Assist Program will run until June 30th and eligible recipients will receive 50 percent of median market rent.
The calculation is based on the unit size applied for ranging from $415 per month for a bachelor or room in a house to $800 per month for a three-bedroom house or larger.
Housing Minister Pauline Frost says the COVID-19 Rent Assist Program will help mitigate the financial impacts of the pandemic.
"I'm very happy to make this money available to Yukoners who need it most," Frost said via a teleconference with reporters Monday afternoon. "It is part of our government's ongoing commitment to help Yukoners at this difficult time."
YG will pay the money directly to landlords ensuring partial income from their rental properties.
Community Services Minister John Streicker says homes now act as a place of work, learning, self-isolation and have become more important than before.
"What we're doing is helping Yukoners out that are struggling with rent," Streicker said on the call. "This will prevent debt from accruing, and also support landlords who are owed rent."
Those who deferred rent for April and May are also able to apply to help cover their costs.
The program will be re-assessed by June 30th and could be extended if needed.