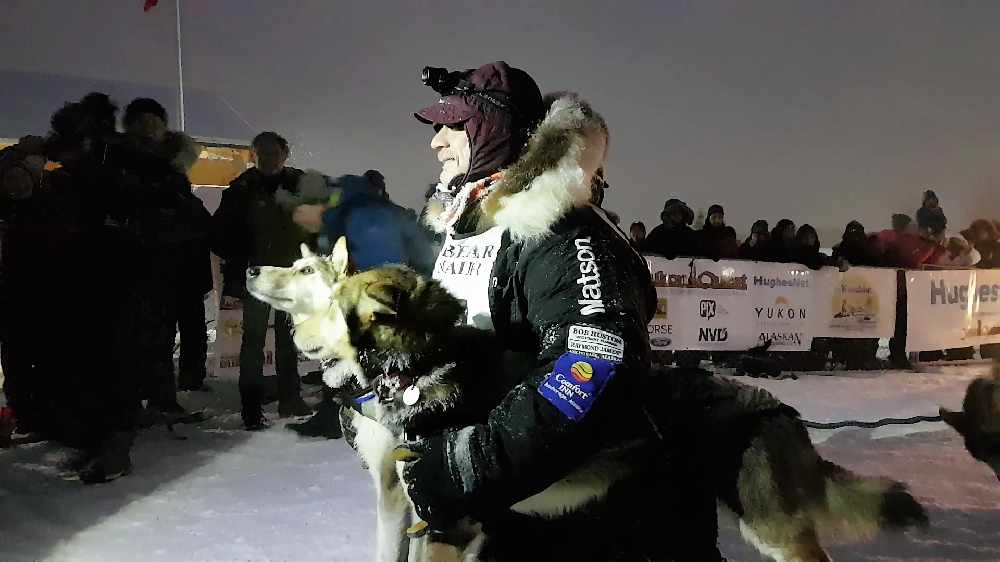 Allen Moore at the 2018 Yukon Quest finish line in Whitehorse in February. The defending champion and 21 others have signed up for the 2019 edition of the race. Photo: Tim Kucharuk/CKRW file.
22 mushers sign up on opening day, including three who have won the 1,000 mile race between Whitehorse and Fairbanks.
The Yukon Quest says the largest number of mushers to sign up on opening day in five years packed into their Whitehorse and Fairbanks offices on the weekend.
The Quest says 22 mushers put down their entry fee for the 1,000 mile dog sled race, which starts February 2nd in Whitehorse.
There's plenty of familiar names including defending champion Allen Moore of Two Rivers, Alaska, Rob Cooke of Whitehorse, 2017 champion Matt Hall, and the colourful Brian Wilmshurst of Dawson City.
2015 champion Brent Sass is back after taking a year off.
Fifteen veterans in total signed up, along with seven rookies.
18 mushers have signed up for the YQ300, including four-time Yukon Quest champion Hans Gatt.