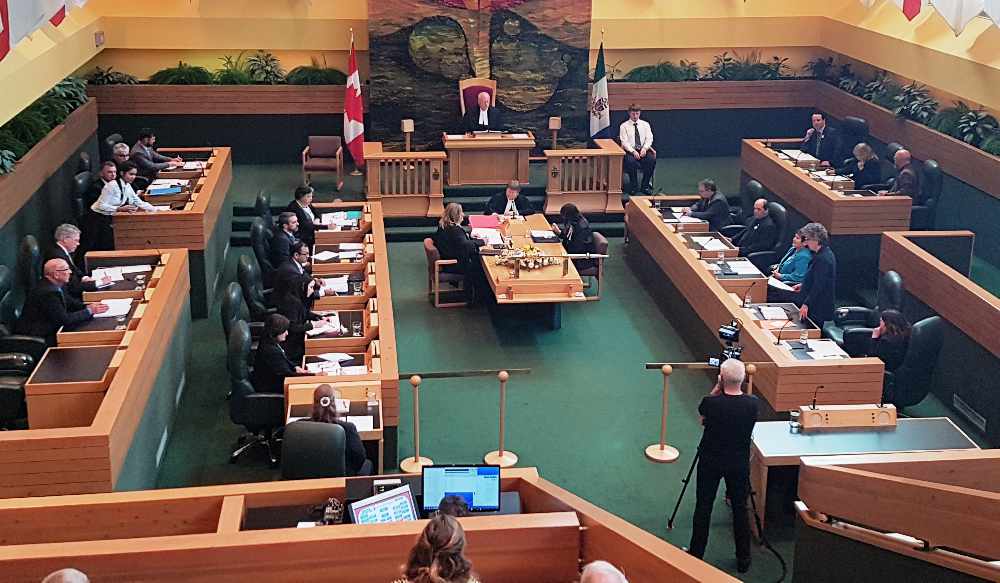 The Legislature in session. The fall sitting is set to begin Thursday, October 3rd. Photo: Tim Kucharuk/CKRW file.
The Legislative Assembly will resume in early October with a Speech from the Throne, which the Yukon Party says is a sign of discord.
Yukon MLA's are circling Thursday, October 3rd on their calendars.
Speaker Nils Clarke says the premier has informed him that's when the Third Session of the 34th Legislative Assembly will begin. Clarke issued a notice of sitting Thursday morning.
The government says the sitting will begin with a Speech from the Throne from Commissioner Angélique Bernard. The session will also feature several bills including legislation to establish Yukon University.
The sitting will be the first for the new Clerk of the Assembly, Dan Cable, who takes over from the retiring Floyd McCormick.
The length of the sitting has yet to be determined but will be announced within the first five sitting days.
Opposition Yukon Party reaction
The Liberal government's plan to begin the fall sitting with a Throne Speech is not sitting well with the opposition Yukon Party.
Finance Critic Brad Cathers says no premier has a third Throne Speech if things are going well. "It's a clear sign the premier even realizes the Liberal government is floundering," Cathers said.
Cathers tells the RUSH the Speech from the Throne is a ploy for the Liberals to continue to avoid budget debate on the Health and Social Services, and Education departments.
"The government's excuse for not agreeing to (debate in the spring) was it was going to be a very busy fall sitting," Cathers said. "In fact, what we've seen is the use of a Throne Speech (which) appears to deliberately aimed at avoiding debating the finances of the territory, and areas where this government has been very weak in addressing the needs of Yukoners."
The Lake Laberge MLA says if the opposition can not debate the budget inside the house, they will outside of it.