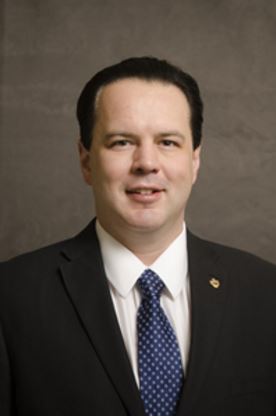 Yukon Party Finance Critic Brad Cathers (Online Photo/Yukon Legislative Assembly)
The Official Opposition says it's Liberal spending that has the government in a deficit.
The Opposition Yukon Party says it's Liberal government spending which will put the territory into deficit, not the lack of projected operating costs for capital projects.
Responding to the Public Accounts report tabled Tuesday which estimates up to $58 million in deficits by 2021, the Opposition says the government is attempting to use that excuse to bring in a territorial sales tax to cover increased spending.
Finance Critic Brad Cathers also defended the previous government's record of spending by saying the Yukon Party wiped out Hospital Corporation debt, and lent Yukon Energy money for the LNG plant, so they wouldn't have to borrow from the private sector.
"In the one case to save money and in the other case, seeing investment in our healthcare system as well as a reduction of $1 million dollars annually in interest costs so I believe that was money well spent."
Cathers says the operating expense issue is a red herring.
"We think, in fact, it's an attempt to give the Minister an excuse to do things like implement a territorial sales tax. They started this fiscal year with $93.4 million in the bank and by their own plans, plan to burn through $80 million dollars of cash reserves during this fiscal year and Whistle bend is not open yet."
As for the $5.4 million dollar deficit for the last fiscal year, against a projected $9.4 million surplus, Cathers says the Liberals were in power for almost half of that time, and points to $105,000 dollars in spending on new office equipment by the new government, which was uncovered by an access to information request.