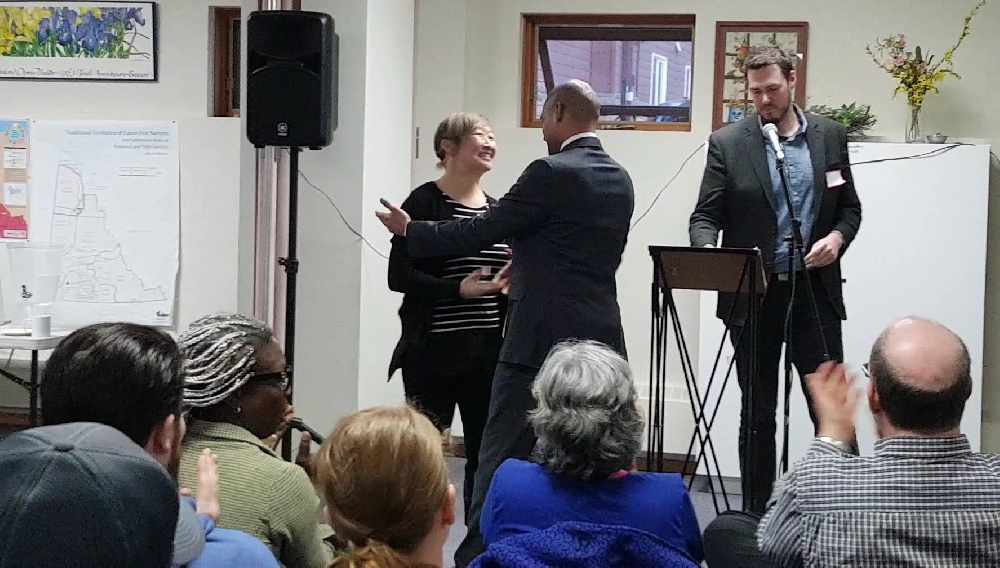 Kaori Torigai (left) congratulates Justin Lemphers after the announcement Thursday night. Photo: Tim Kucharuk/CKRW.
Federation of Labour president Justin Lemphers gets the nod over Kaori Torigai.
Justin Lemphers will lead the NDP into the next Yukon federal election.
Over 100 people were at a meeting in Whitehorse Thursday night, to see the Yukon Federation of Labour president win the nomination over project manager and former business owner Kaori Torigai.
Lemphers says Yukoners he's spoken to so far have concerns about climate change, environmental protection, electoral reform, income inequality, and affordable housing.
He says he's looking forward to meeting more Yukoners as we get into the campaign.
"I think the NDP has a message and a connection with people." Lemphers told the RUSH after the nomination.
"Those that are interested and those that are not familiar with it will want to hear that message, and will be interested in speaking with us and speaking with the party and learning how they can be involved and engaged."
B.C. New Democrat MP Randall Garrison addressed the crowd as the ballots were tabulated, speaking of his early days in politics, and his current work on the Commons defence committee.
Lemphers joins Conservative Jonas Smith and Liberal incumbent Larry Bagnell as nominated candidates for the next election.
Federal NDP candidate Justin Lemphers on the nomination and the road ahead. #Yukon pic.twitter.com/zfbI2lYSvN

— Tim Kucharuk (@TimKucharuk) March 29, 2019