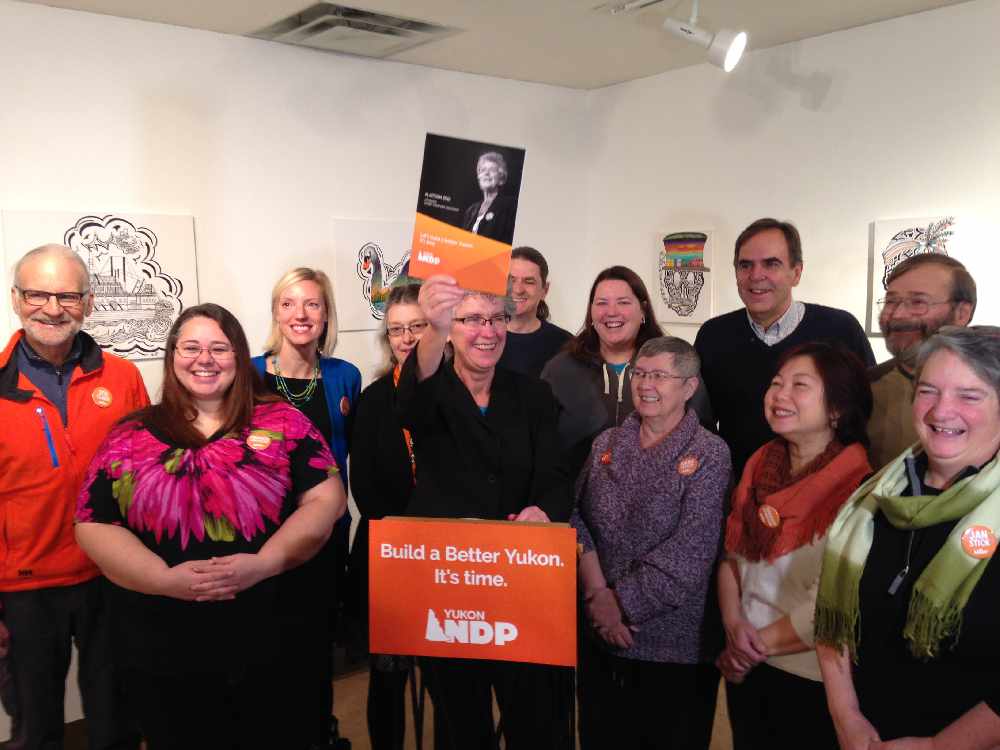 Liz Hanson during the NDP's 2016 election campaign kickoff. Hanson will step down after a leadership contest. Photo: CKRW file.
Updated: Liz Hanson comments after announcing she's going to step aside once the party picks a new leader.
The longtime leader of the Yukon NDP says she'll stick around as Whitehorse Centre MLA, even after stepping aside when a new leader is appointed.
Liz Hanson met the media in the party's caucus office Thursday morning, a day after announcing her plans saying the move brings a sense of relief.
"I feel really good about the timing, and about having made this decision along with the board of the New Democratic Party." Hanson told reporters.
"It's time to begin to focus on the future for the party."
She says the NDP can begin to prepare for the next election.
"I do believe that whoever takes on the job of representing Yukon citizens needs to be able to do it fully." Hanson said.
"Going into the next election, I want the NDP to be able to engage with Yukoners on all levels at full strength."
Hanson says working with First Nations on the court case involving the Peel Watershed, getting a Select Committee on Hydraulic Fracturing, and advocating for changes to regulations around carbon monoxide detectors are some of the issues that stand out for her during her eight years as leader.
She says she also takes the blame for the party falling from Official Opposition to Third Party status in the 2016 election, as the party had built an excellent team during the 2011 election.
When asked about what she's proud to have championed during her time as @YukonNDP leader, @LizHansonNDP says the Peel court case sticks out amongst the many issues. #ytpoli pic.twitter.com/F9touNDeDM

— Tim Kucharuk (@TimKucharuk) November 22, 2018
(This story is updated. The previous version is below.)
______________________
The leader of the Yukon NDP is stepping down, and the party is now set to have a leadership race.
Late Wednesday afternoon, the party announced Liz Hanson would serve as leader until a successor is appointed following a leadership race.
Hanson, who took over as leader from the late Todd Hardy in September 2009, was first elected to the Legislative Assembly in a by-election for Whitehorse Centre in December 2010.
In a release, Hanson says she's proud of the work done since she was first elected, and a leadership race is a great opportunity to talk about the kind of government Yukoners want.
The NDP say the Board of Directors will establish the rules and timelines for a leadership race over the coming weeks, with details made public as they become available.