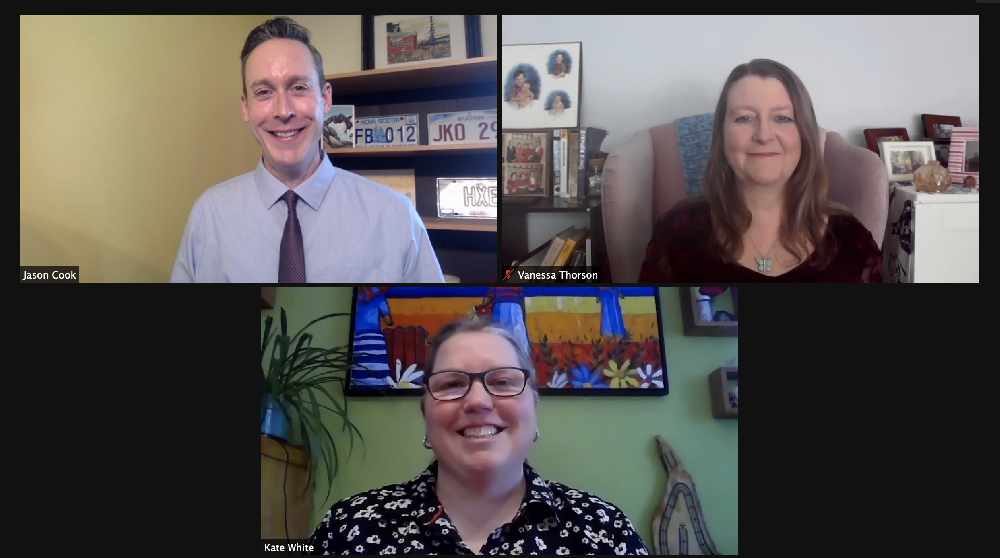 Yukon NDP leader Kate White introduces Jason Cook and Vanessa Thorson as candidates for the next territorial election. Photo: Yukon NDP
The candidates were introduced at a virtual announcement on Sunday.
The Yukon NDP have revealed two nomination candidates for Riverdale for the upcoming territorial election.
In an online announcement on Sunday, Yukon NDP Leader Kate White introduced Jason Cook and Vanessa Thorson as candidates.
In the official release, the party says the two candidates are "ready to fight for students, parents and teachers."
Thorson will seek the nomination for Riverdale North. She is a parent with children enrolled in elementary, secondary, and post-secondary levels.
She says she wants to help build an education system where kids in the Yukon can thrive.
"The time has come for a more collaborative style of government," says Thorson. "For implementing nimble and flexible policies. For transparency in decision-making. And for engaging with our citizens. That is essential to democracy. Without it, we lose our democracy."
Cook is a teacher in Whitehorse. He helped launch the Rainbow Room at Porter Creek Secondary School, and is an executive member of the Yukon Teacher's Association. He will seek the nomination in Riverdale South.
Cook says too many students are falling behind under the current education system.
"I think we can all agree, it's not a secret. The education system is badly broken. Mental health support is still lacking, or out of reach for many students and educators."
If he is successfully named the NDP candidate, Cook will be running against current Education Minister Tracy-Anne McPhee.